60th Anniversary of the First Ascent of Everest - see it for yourself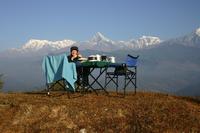 The 29th of May marks the 60th Anniversary of the first successful ascent of Everest, the tallest mountain in the World at 5848m, by the late Tenzing Norgay and Sir Edmund Hillary.

The magnificent mountain is a huge draw to both climbers and trekkers, who can reach the famous Base Camp – which is actually at 5600m – without the need for technical equipment.

The Base Camp in Nepal (which only became an option in the 1950s when the borders opened) is the starting point at which, every year, serious climbers risk their lives to reach the sumit.

There is also a Base Camp in Tibet, which saw the first attempts to reach the summit (all failed, including the fateful Mallory and Irvine episode; but no one knows whether they actually made the summit – some believe they died on the way back…).

Walks Worldwide offers a number of options to reach Everest Base Camp including the classic Everest Base Camp trek.

Unlike travelling with some other tour operators, accommodation with Walks Worldwide on the 17-day private, guided trip is in cosy mountain lodges, so no uncomfortable camping!

The trip is graded as demanding with walking at a maximum altitude of 5600m, however the trek should be within the capabilities of regular hill walkers.

The holiday costs from £1089 pp (two sharing) which includes all land transportation, internal flights in Nepal, hotel and lodge accommodation, all meals on the trek and a professional trekking guide.

Prices which include flights (fully bonded) are also available on request.

For more information, visit walksworldwide.com.