Respect the rubber and be a scrubber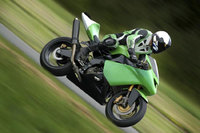 Motorcyclists fitting new tyres to their bikes this spring should ride with extra care for the first 100 miles to avoid any potential hazardous slip ups. The advice has been issued by TyreSafe at one of the most important times of the year for riders, as many seek to make the most of the longer days and lighter evenings.

"After a year of record rainfall levels, many bikers may be taking the wise precaution of fitting fresh rubber to their motorbike this spring," comments Stuart Jackson, chairman, TyreSafe. "While the extra tread depth will undoubtedly provide better safety in the wet, it's important to treat new tyres with a degree of care and ride with extra caution for the first 100 miles or so while the tyres scrub in."

During the tyre's manufacturing process, its surface is coated with a release agent to prevent it from sticking to the tyre mould. In some cases, this non-stick property can make the tyre slippery on the road when it is first fitted to a bike, presenting a potential safety hazard for riders.

To overcome this safety risk, riders are advised to avoid maximum power, hard acceleration, braking and cornering for the first 100 miles or so. This period of gentle riding allows time for the tyre to 'scrub-in' while any traces of the release agent are removed from the surface. With potentially reduced levels of grip, riders should take extra care on wet or greasy roads. After the scrubbing-in period of 100 miles, the tyres should be checked to make sure they are still correctly seated on the wheel rim and the pressure is still correct.

"As the only point of contact between a bike and the road, it's essential that tyres are properly looked after," adds Jackson. "After the initial period of checks, riders should make sure they continue to make regular inspections covering the tyre's condition, tread depth and pressure throughout its life."

For further information about tyre care and maintenance, visit tyresafe.org.