La Manga Club gets the triathlon bug with new event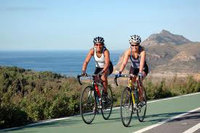 Triathlon has never been so popular in the UK following Alistair Brownlee's victory at last summer's Olympics and lovers of the sport can head to Spain's La Manga Club and compete in a new event next month - with a two-night stay including race entry on offer from just €97 (£88 approx) per person.

Taking place on Sunday May 12, the Portman Bay triathlon will be held on the coast three kilometres away from the award-winning luxury resort and will feature a one kilometre open water swim and 30km bike ride, with a six kilometre run to finish.
Open to men and women aged 18 and above, the event will be split into several different age sections including categories for veterans, with prizes awarded to the top three finishers in each group.
As well as their entry fee, competitors staying at the five-star La Manga Club will receive two nights' accommodation in the Las Lomas Village apartments and breakfast, while road bike hire is also available at the resort for people who don't want to take their cycles with them.
Entrants can recuperate with free access to the fitness centre, indoor pool, saunas and steam rooms at Spa La Manga Club, while guests seeking added luxury can enjoy a two-night stay in the resort's five-star hotel with the same privileges from €165 per person. All prices are based on two people sharing a room.
Renowned as Europe's leading sports and leisure destination, La Manga Club is an ideal venue for fitness training at any time of year with extensive facilities including a large, comprehensively-equipped gym and 25-metre indoor pool.
The resort, which is three times the size of Monaco, is hosting a series of specialist courses and retreats throughout 2013 aimed at returning, and keeping, guests in peak condition.
Independent fitness expert Fitness 12 is staging a varied programme of breaks at La Manga Club over the coming, with retreats focusing on cycling, detox, spa, the over-60s and triathlon, while TV celebrity fitness guru Joanna Hall is also hosting her popular 'Walkactive' training camps this month and in October.
In addition, the resort has once again teamed up Adventure Boot Camp and former Gladiators star Kate Staples for the third successive year to run a series of fun-packed activity camps for children and adults from July 22 to August 16.
Suitable for both avid fitness enthusiasts and complete novices, the programmes feature a selection of strength exercises and sports conditioning exercises designed to burn maximum calories.
La Manga Club boasts unrivalled facilities as a sport and leisure venue including three 18-hole championship golf courses, a 28-court tennis centre and a 2,000m² spa and fitness centre. It also offers the choice of a five-star hotel, four-star serviced apartments and townhouses, more than 20 bars and restaurants and is great fun for children.
For more information or to book, visit lamangaclub.com.