Oxford vs Bicester - Save over £3,300 per mile at the Garden Quarter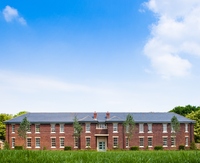 Local agent Connells has urged purchasers looking to buy a home in Oxford to consider nearby Bicester, where they can save up to £50,000 without sacrificing quality or style at City & Country's latest development, The Garden Quarter.
Paul Stachura from Connells commented: "By venturing just 15 miles from Oxford, purchasers can be up to £3,300 per mile richer without sacrificing quality. Similar properties in Oxford range from around £410,000 to £450,000 for a two or three bedroom terraced home, but at The Garden Quarter you can get even larger two and three bedroom properties ranging from £210,000 to £349,950.
"The Garden Quarter by City & Country has been expertly restored and is set in beautiful landscaped grounds. The development is also ideally located with really good connections into central London, so buyers really are investing wisely."
Formerly the RAF Bicester domestic site, The Garden Quarter is being carefully converted into a selection of luxury apartments and cottages and when complete, the development will provide 196 homes set within 23 acres of beautiful landscaped parkland.

Each property at The Garden Quarter offers an all-inclusive specification and has been cleverly designed to maximise space and natural light. Careful attention has been paid to every detail of the interior finishes, from flooring and lighting to tiling and décor.
Helen Moore, Managing Director of City & Country commented: "The Garden Quarter has been expertly restored and converted by our dedicated team and the finished result has been excellently received by both the local community and purchasers. We have breathed new life into the buildings and introduced stunning landscaped grounds, giving a spacious and open feel to the development. All of these factors are reflected in the excellent sales success we have had."
Sue West, Manager of Connells in Bicester added: "Bicester enjoys a great location surrounded by superb countryside, yet with fantastic road and rail links to local towns and larger cities.
Bicester is an attractive choice for a wide variety of purchasers, from locals upsizing or downsizing, families moving into the area from London, commuters taking advantage of the superb road and rail links, through to professionals who enjoy living near the countryside and first time buyers who can get a lot more for their money in Bicester. With such a range of prospective purchasers, it comes as no surprise that the housing market is very buoyant with more people looking to buy than there are properties available."
The Grade II Listed development is steeped in history, having formerly been the domestic site associated with RAF Bicester. Its status as the best preserved example of the bomber bases constructed as the principal arm of Sir Hugh Trenchard's expansion of the RAF from 1923 caused it to be designated a conservation area in 2002. 18 of the buildings, including the Officers Mess and Quarters, have been listed as Grade II by English Heritage.
Prices at The Garden Quarter start at £175,000 for a one-bedroom property, £210,000 for a two-bedroom property and £349,950 for a three bedroom property. For further information, visit cityandcountry.co.uk.