The rise of hen and stag tourism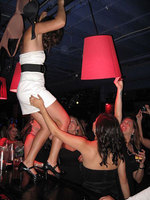 The popularity of foreign stag and hen parties is set to boom this year as brides and grooms-to-be jet abroad to celebrate their impending nuptials, according to research from Confused.com.
The findings from the price comparison website reveal that 16% of Brits are going on a hen or stag do abroad this year, with Barcelona topping the chart as the most popular destination for stags and Ibiza the favourite among hens.

However this desire for brides and grooms to spend their last few days of freedom partying in the sunshine comes with a price tag, with the average cost of a stag or hen party abroad coming in at £276 per head. Some revellers are really willing to splash the cash, with one in 10 (11%) forking out £500 or more for a party to remember.

Yet not all Brits are willing to travel overseas to celebrate their friends' last night of freedom. In fact one in five (18%) have turned down an invite to a stag or hen party abroad because of cost issues. A quarter of people (26%) admitted that they would never go on a stag or hen abroad as they think it's too expensive, and a third (33%) said they would only venture overseas if they were directly involved in the wedding.

More than half of Brits (51%) think it's a big ask to expect people to travel abroad for a stag or hen party. However, despite this fact 16% of people would attend a hen or stag do in a foreign country regardless of cost.

With so many Brits now travelling abroad for hen or stag parties - and considering the fun-filled antics that will surely take place - there is a whole host of complications that may occur on such trips.

Many incidents are the results of booze-fuelled antics, with 13% of revellers admitting to getting drunk and being thrown out of their hotel, and a further one in 10 (10%) having been arrested as a result of their drunken behaviour. Some drunken party-goers (7%) have even gone as far as having a tattoo or piercing to commemorate the stag or hen party.

According to the findings, nearly a quarter of party-goers (23%) have lost friends on a night out when on a stag or hen do in a foreign country. A further one in 10 (11%) claim they either they or another member of the party ended up missing their flight home. Many revellers have also lost or had items stolen including their mobile phone (7%), luggage (5%) and passport (2%).

With adequate travel insurance, problems such as theft and unexpected cancellations could be covered, and therefore it is essential you get the best cover possible if heading abroad for a hen or stag party. Bearing in mind that you can purchase a travel insurance policy for as little as £4.90, travellers are unnecessarily leaving themselves open to hefty additional costs.

However party-goers need to be aware that their travel insurance may not pay out if the reason for lost items, illness or injury occurred when under the influence of alcohol. Travellers should do their utmost to behave with due care when on stag and hen dos to ensure they don't cause any unnecessary problems for themselves or rest of the stag or hen party.

Mhairi Edwards, Head of Travel Insurance at Confused.com says: "Hen and stag parties are an essential part of any wedding plans. But, with increasing amounts of parties being held abroad it is important not to forget vital things like travel insurance. Illness, accident, lost passports and missed flights can all put a financial and stressful strain on a trip, but having adequate insurance cover could help ease these problems."

"It is important for individuals going on these sorts of trips to be aware of the kind of risks they may be putting themselves under. Therefore they should ensure they have travel insurance that will cover them for such possibilities."