Summer Moulids in Egypt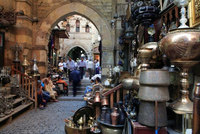 Summer is almost here, promising scorching sunshine and lively festivals in Egypt. The most prominent religious festivals in Egypt are the 'Moulids', meaning birthday in Arabic, which are incredibly animated processions that take to the streets of Cairo and in other towns and villages, on the birthdays of various holy men in July and August. Celebrated by exchanging sweets, decorative lights, music, wild dance, fireworks and ritual chanting, as well as street parades and performances, these moulids blend religion with folklore and are a truly exciting summer spectacle for visitors to encounter.
For those wanting to visit Egypt in summer, specialist operator Egypt Uncovered offer a choice of tours, all of which take in the bustling city of Cairo, in addition to a wealth of interesting sites and landmarks; from the mighty River Nile to the iconic, desert-backed Pyramids. Tours include:
Discover the Jewels of the Nile – Egypt From £379 Per Person (Save £70) Egypt Uncovered is offering an eight-night Nile Explorer trip from just £379 per person (under £48 per night), which includes a saving of £70. Valid for departure on 13 July, the price includes transfers, varied four to five-star accommodation on a mixed-board basis and the services of an expert Egyptologist. Often described as the lifeblood of Egypt, this exciting small-group tour follows the route of the Nile - the longest river in the world, uncovering some of the most spectacular monuments in ancient history. Starting in Cairo, learn about the history of the Pyramids and Sphinx and visit stunning mosques and the famous Egyptian Museum. Then head to the island temple of Philae and the huge High Dam before stepping on board a traditional Felucca sailboat for a two-night trip down the Nile. This is followed by Luxor and its markets and the Valley of the Kings, before ending the trip back in Cairo.
For more information, visit egypt-uncovered.com.