Two Film4 backed films heading for Cannes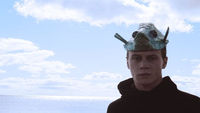 Paul Wright's For Those in Peril and Clio Barnard's The Selfish Giant, two Film4-backed British films, have been selected for this year's Cannes film festival.
For Those in Peril, Wright's debut feature following his BAFTA-winning short Until the River Runs Red, will screen in competition in Critics' Week, whilst Barnard's The Selfish Giant, the follow-up to her critically-acclaimed The Arbor, has been selected for Directors' Fortnight.
Tessa Ross, Head of Film4, says: "We're absolutely thrilled for Clio and Paul that their wonderful work has been recognised by the festival. Both are visionary filmmakers who have produced beautifully realised films and we can't wait for audiences to discover them in Cannes."
For Those in Peril is produced by Mary Burke and Polly Stokes and is a Warp X Production with support from BFI, Film4 and Creative Scotland in association with Screen Yorkshire. Exec Producers are Robin Gutch, Robbie Allen, Katherine Butler, Lizzie Francke and Hugo Heppell.
The Selfish Giant is produced by Tracy O'Riordan and is a Moonspun Films Production, with support from BFI and Film4. Exec Producers are Katherine Butler and Lizzie Francke.
International sales are being handled by Protagonist Pictures on both titles.
For Those In Peril: Aaron, a young misfit in a remote Scottish community, is the lone survivor of a strange fishing accident that claimed the lives of five men including his older brother. Spurred on by sea-going folklore and local superstition, the village blames him for this tragedy, making him an outcast amongst his own people. Steadfastly refusing to believe that his brother is dead, and possessed by grief, madness and magic, Aaron sets out to recover him.
The Selfish Giant is a contemporary fable about 13 year old Arbor and his best friend Swifty . Excluded from school and outsiders in their own neighbourhood, the two boys meet Kitten, a local scrapdealer – the Selfish Giant. They begin collecting scrap metal for him using a horse and cart. Swifty has a natural gift with horses while Arbor emulates Kitten – keen to impress him and make some money. However, Kitten favours Swifty, leaving Arbor feeling hurt and excluded, driving a wedge between the boys. Arbor becomes increasingly greedy and exploitative, becoming more like Kitten. Tensions build, leading to a tragic event, which transforms them all.