Nelson's tall ship provides new wedding venue for Ocean Village Gibraltar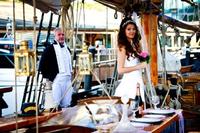 Around 1,000 marriages take place in Gibraltar each year, over 80% of them between non-residents. They enjoy the simple legal procedure, easy flying time from northern Europe and warm Mediterranean sunshine. Now there's another great reason to get wed on the Rock – the arrival of Nelson's Schooner Pickle in Ocean Village marina.
Jeanette Obytz of MedWeddings has been helping love struck couples get married in Gibraltar for over a decade now, and is thrilled that there's a new tall ship in town for memorable blessings and receptions. "Gibraltar already has some delightful and unusual wedding venues, the 19th century Alameda Botanical Gardens and the Mons Calpe Suite perched 412 metres up the Rock both spring to mind, but Schooner Pickle will be a fine addition. Beautiful varnished wood, furled sails in twin-masted rigging and twinkling polished brass lanterns against the backdrop of Ocean Village marina and the looming Rock will make a magical setting. We already have our first blessing and reception booked for May and we can't wait."
73ft Schooner Pickle, a replica of the 1799-built original, welcomed her first guests onboard in Gibraltar in April. Operator Robin James, who also captained HMS Pickle from North Wales to Gibraltar last autumn, says, "We've been working hard moored in Ocean Village over the winter, removing cabins to create museum space, shipping historical artefacts from the UK and painstakingly handcrafting deck tables, benches and awnings for the comfort of our guests. She is now shipshape and ready for guided tours and private hire – with wedding blessings and receptions firmly on our radar. We'll even don authentic naval uniforms for a real taste of Trafalgar. Pickle already has a romantic tradition of uniting loved ones having rescued Jeannette Caunant at Trafalgar and reuniting her with her husband when they thought each other had been lost. Rather fitting."
The legal requirements for getting married in Gibraltar are very straightforward. A special marriage licence is applied for the day before the booked wedding date and then the bride and groom just need to show up on the day. For first-timers, a passport and full birth certificate is the only paperwork you'll need, for second (or more) time around, a few other documents are required – but nothing too arduous. A Gibraltar marriage is also recognised worldwide. Little wonder people come from all over the world to marry in this British outpost in the Mediterranean. Over the past few years Jeanette has guided Brits, Germans, Russians, Canadians, Brazilians, Americans, Australians, Swedish, Polish, Columbians and more through the happy process of getting married in Gibraltar.
Those who choose Gibraltar for their wedding will be following in very famous footsteps. The Rock provided the foundation of Sean Connery's marriage to actress Diane Cilento back in 1962. Sadly the foundations faltered but he came back for round two of "I do" in 1975 when he married present wife painter Micheline Roquebrune. The biggest media storm however surrounded the wedding of John Lennon to Yoko Ono in 1969. John said, "We chose Gibraltar because it is quiet, British and friendly. We tried everywhere else first. I set out to get married on the car ferry and we would have arrived in France married, but they wouldn't do it. We were no more successful with cruise ships. We tried embassies, but three weeks' residence in Germany or two weeks' in France were required... Gibraltar was like a little sunny dream."
In 1999 Gibraltar even issued postage stamps depicting the couple standing on the airport runway in front of the Rock, marriage certificate aloft, to commemorate the 30th anniversary of their wedding. Perhaps if Pickle had been in town, Mr and Mrs Lennon's wedding photos would have been in slightly more salubrious surroundings.
Schooner Pickle can accommodate 20 guests fully seated on deck, or 30 or more for a standing fork buffet with caterers and a full bar service on offer. Weddings, retirement parties, product launches, photocalls, corporate entertainment and children's birthday parties are all possible and welcome. HMS Pickle is famed for her role at the Battle of Trafalgar where she raced home to give the King in London the bittersweet news of Lord Nelson's death and British victory over the combined Spanish and French fleet.

Visit schoonerpickle.com for more information.
To contact MedWeddings, visit medweddings.com.

To keep up to date with all other activity at Ocean Village, visit oceanvillage.gi.