May's the month for Mitsubishi savings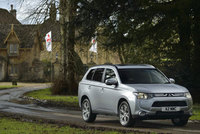 With summer fast approaching, Mitsubishi Motors in the UK is turning up the temperature with a suite of seasonal savings sure to get the nation's motorists hot under the collar.

Throughout the month of May, Mitsubishi dealers nationwide will be offering huge discounts on selected examples of the Colt super-mini, the 2012 model ASX crossover and the previous generation Outlander SUV, as the carmaker looks to build on its incredible start to 2013.

This May sale comes after fantastic sales growth, accounted for by the successful launch of two new models; the new Mirage super-mini and the all-new Outlander SUV.

The Mitsubishi Colt

Colt, Mitsubishi's super-mini, has incredible savings of up to £3,000. Motorists on the look out for something a little more compact, would be hard pressed to find a better option than the chic Colt.

The Mitsubishi ASX

Meanwhile, the stunning 2012 model ASX crossover with its striking 'jet-fighter' front grille, is available with a discount of as much as £4,000.

With a spacious and well-appointed interior and an efficient yet engaging engine capable of clocking up 54.3 mpg (combined cycle), the model brilliantly combines everyday practicality and affordability with stylish 4x4 looks and impressive off-road performance.

The Mitsubishi Outlander

The previous generation Outlander is a 7-seater with 4x4 capability and offers the biggest saving of all – a huge £5,000 off RRP. The specification levels are high, and the vehicle returns over 44mpg (combined cycle).

To find out more information on these fantastic offers, visit mitsubishi-cars.co.uk/dealers.