Sloth Bears of Sri Lanka prepare to feast in Yala National Park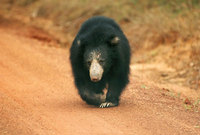 Sri Lanka's Yala National Park can proudly claim some of the most awe-inspiring leopard sightings in the world, but it's not just the big cats that prove reason to explore this wild and fascinating corner of the country. In two weeks time the Palu trees will bear their fruits and the elusive Sloth Bears will be at their most active scouring the park and scaling the Palu trees in search for ripe fruits.
Now categorised by the International Union of Conservation of Nature as an endangered species, Sloth Bears by nature are elusive and, although a notable inhabitant of Yala National Park, can be harder to observe than their fellow residents. The season of the Palu fruit gives visitors a great opportunity to see these characterful bears in their natural habitat. Cinnamon Wild, a luxurious bolt-hole and the closest hotel to the entrance to the national park will take guests on game drives at Yala National Park this season to watch the bears feasting on their favourite fruits.
Guests will experience first-hand the destination that has inspired some of the globe's most renowned wildlife film-makers. Cinnamon Hotels' Nature Trails teams have worked to support many ground-breaking documentaries, working with Animal Planet, Nat Geo and Discovery networks and with Martin Dorhn the producer of 'Night Stalkers' for Nat Geo Wild.
Cinnamon Wild Yala (Formerly Chaaya Wild Yala) is one of Cinnamon Hotels' eight properties in Sri Lanka. Having conformed to the standard operations and processes required of a Cinnamon property; the hotel is now enhanced to Cinnamon Wild Yala offering an environmentally friendly and socially responsible experience for travellers. Located less than 3km from the world renowned Yala National Park that boasts the highest density of leopard in the world, Cinnamon Wild Yala is 'the' place for nature lovers and photographers alike, as it affords the opportunity for numerous one on one encounters with the wild and memorable moments captured on film - a natural extension to the park being placed with no artificial fencing between the park and resort.
With a total investment of over Rs. 400 million being invested in infrastructure in early 2012, the resort spent an additional 12-15 months on staff training and soft changes to fulfil its requirements to becoming a Cinnamon property which includes strong community and environment based activities.
Cinnamon Wild Yala now offers seven unique experiences, namely, the guided safari with Cinnamon Nature Trails, bush dinners, Champagne breakfast by the beach, night safari with infrared vision, photographic nature walks, visits to the cattle farms where Project Leopard is implemented as well as the unique view from the observation deck of the wilderness and the sea.
In addition to the above, the dedicated team of naturalists are fully trained and equipped to educate and guide guests through their expedition of the Yala National Park. Some of the personalised assistance provided to guests during the safari includes the facility to rent DSLR high end photographic equipment and guidance on capturing the best moments while on safari. Other aspects of the Cinnamon experience include a special night safari using infrared technology, bush dinners, special lectures and briefings of Yala's Bio diversity etc.
Cinnamon Wild Yala represents rustic luxury resembling an international game lodge found in Africa. It accommodates 68 chalets that are adorned with earthy interiors that take on a camp look and feel, large trunk boxes, vintage furniture, director's chairs and indigenous artwork.
At Cinnamon Wild Yala guests will also have the chance to experience up to 44 mammal species endemic to the region including wild Tusker Elephants and Sloth Bears. The resident nature trails team are at hand to arrange nature treks, game drives, night safaris and camera traps ensuring a truly unforgettable and truly wild experience!
Kuoni (kuoni.co.uk) offers seven nights on half board basis at Cinnamon Wild, Yala staying in a jungle chalet including flights with British Airways from Gatwick and group transfers in resort. Prices for departures in May 2013 are from £1,765 per person, based on two sharing.