Health and well-being in the heart of the South Tyrolean Dolomites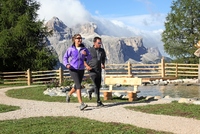 Alta Badia devotes July 15th – 31st July entirely to the well-being of body and mind when this mountain playground turns into an outdoor gym at 2000m. Nordic walking, chromotherapy, Pilates, themed tours, a day with a personal fitness trainer, a meditative walk or healthy cooking classes are on the agenda which will suit men, women, children and sportspeople alike.
Daily activities are suitable for all levels and include Nordic walking excursions or tours exploring medicinal herbs. And for the more sporty the fitness programme includes zumba, step, and body workout days, as well as a special day with an expert fitness trainer who will offer participants useful advice on how to keep fit when they return to city life. All the activities are strictly outdoors.
Research confirms there are many benefits to physical activity: it reduces the chance of cardiovascular diseases (hypertension, heart failure, stroke, etc.), reduces cholesterol and prevents obesity. Outdoor sports have beneficial effects on both body and mind. Practicing sports in the mountains is an effective way to recharge batteries and return to work after the opportunity to recapture some space and time with colours, lights, rhythms, silence and the sounds of nature.
Physical activity at high altitudes is a real cure not just for the body but also for the mind, especially outdoors, away from the stress and pollution of the city, with a view over some of the most stunning Dolomite peaks in the world. During the weeks of "health & well-being" in Alta Badia, special initiatives aimed at regenerating the mind, such as the meditative walk "Nature and Breathing", are suitable for all ages. The walk, with physiotherapist and kinesiologist Maria Pescollderungg, take place at 09.30 on 18th July; will start from Armentarola, then through the woods, and up to the meadows of the Sass Dlacia, beneath the Conturines rock faces. Participants will learn about best breathing approach and develop new breathing techniques. Also on offer is a Pilates session and a conference on the benefits of chromotherapy, scheduled for 16th July with General Practitioner Dr Fausto Neeresh Pagnamenta.
Health and well-being are not just synonyms for physical or mental activity. In fact they represent a way of life involving many other factors too, like a correct and balanced diet, rich in vitamins and low in fats. To understand the importance of this subject, a healthy cooking course, held by Andrea Irsara, will be organised at the Gourmet Hotel Gran Ander on the 19th and 26th July.
Alta Badia encourages children to make healthy eating choices and are organising an event specially designed for young audiences and their parents. The programme is aimed at encouraging physical and mental activity in children, which is crucial at a time when a sedentary lifestyle and child obesity are constantly on the increase. After a few hours of outdoor activities, the children will be offered a packed lunch containing a healthy snack, with the ideal combination of foods to provide a genuine and complete kids meal.
The Movimënt Areas – Green Movement at high altitude

There are two areas situated at Piz Sorega and Piz La Ila at 2000m offering panoramic platforms with a variety of fitness equipment including two kneipp green routes and natural routes for plantar reflexology. Entry and use of equipment are free. The two "Movimënt" areas are easily accessible by cable car from San Cassiano or La Villa, thanks to the Alta Badia Mountain Pass. The Pass allows both adults and children to use 15 ski lifts, all the buses around the Sella group. The pass is free for children up to 6 years of age, if combined with the purchase of an adult pass, mountainpass.it.
Candle Lights in San Cassiano

As part of the health and well-being concept the buildings in the centre of San Cassiano will switch off their lights from 21.00 on the 21st August. The centre will be lit only by candles and torches, offering a unique experience in a truly distinctive tranquil and relaxing atmosphere. Restaurants will prepare simple dishes and all this will be accompanied by purely acoustic music. The aim is to rediscover the most innate senses and give a helping hand to Mother Nature!