Luxury yacht charter in Malta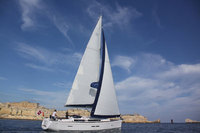 For the 2013 visitor season, one of Malta's leading yacht charter businesses has launched a range of brand new packages designed to introduce the fun of luxury yachting to UK tourists.
Now being represented for 2013/2014 in the UK by The Tourism Business, Domina Luxury Holidays offers the beautiful yacht, "Domina", for day charters and short breaks, and has enjoyed growth in its business each year since its launch in 2010. Domina is a three berth luxury vessel which is ideal for small groups (up to 8), families or even for couples wanting an alternative experience during their holiday to Malta. The vessel is berthed in Ta'Xbiex Yacht Marina with the Valletta bastions as a backdrop, and was conceived for coastal cruising as well as long distance sailing in comfort and security in the warm Mediterranean waters.
The new packages for 2013 include a one-day skippered "Taste of Luxury", a two day skippered "Highlights of Malta" and a three or four day "Mediterranean Holiday Afloat". Scuba diving days are also offered, and special packages will soon be launched for groups of friends ("Friends On The Water"), families with children ("Family Fun") and newly-weds ("Honeymoon Delight"). Prices range from less than £100pp for a full day skippered, to £3,000 for a full one-week yacht charter, with discounted rates off-season, and bare-boat (unskippered) charters available.
Domina is ideal for people who are planning to visit Malta this year, either on a package holiday or by budget airline. Says Domina Luxury Holidays' Director Chris Busuttil, "there are almost half a million UK visitors to Malta every year, and it's increasing. With an average length of stay of over 8 nights, that gives everyone a great opportunity to have a day out on the water living like a King – and Domina has proven to be the ideal venue for that!"
For more information, visit dominacharters.co.uk.