Chocolate collagen booster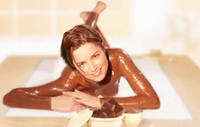 It sounds too good to be true, but you might be able to boost the collagen in your skin, and help keep aging at bay, just by drinking a chocolate, cappuccino or vanilla drink.
Recent clinical trials have shown that 53% of women, between the ages of 50 and 65, who used a serum containing a natural substance called genistein said their skin felt firmer and appeared younger looking within just one month.
Genistein is found in soy and is a substance called an isoflavone. It has been known for some time that genistein is able to act in the body like the hormone oestrogen, but there have been few human clinical studies looking at its effects on skin.
The trials involved looking at the area around women's eyes and crow's feet wrinkles. Two thousand women, over 50, were asked to drop two or three drops of genistein on to their skin twice daily. They were photographed at the start of the study and then again a month after using genistein and in 53% of participants the genistein visibly improved the appearance of their skin.
It is hypothesized that genistein is effective in this way for women going through the menopause because it is at this time in a woman's life that oestrogen falls, which accelerates the depletion of collagen and elastin in the skin.
Genistein will soon be available in a skin serum in the UK, but at £54 a bottle doesn't come cheap. A more cost effective, and tastier, way to get a daily dose of genistein could be as simple as pouring yourself a glass of soy drink.
Vivesoy have recently launched in the UK and they aim to make soy drinks as well-known for their taste as well as their health benefits. Made from non GM soy beans, the drinks contain genistein and come in vanilla, cappuccino, chocolate, natural, unsweetened and light varieties.
Available from Tesco at just £1.25 keeping wrinkles at bay may just have got a whole lot tastier thanks to Vivesoy.
For more details, visit vivesoy.com.