Sony confirms prices and on-sale dates for new BRAVIA X9 4K TV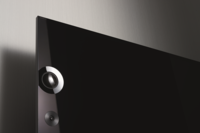 Treat yourself to the detail and excitement of 4K by Sony with the new BRAVIA X9 4K Ultra HD TV. Available to pre-order online now, BRAVIA X9 blends stunning pictures, soul-stirring sound and breath-taking styling in a unique sensory experience.
In European stores from mid-June, BRAVIA X9 brings you TV pictures like you've never seen before. Offered in living room-friendly 55" and 65" screen sizes, it immerses you in the most natural, real images with four times the detail of Full HD.
Any content in 4K
With more films being produced and distributed in the format, 4K is this year's biggest entertainment story. BRAVIA X9 upscales all ALL your current content to 4K – including Blu-ray Disc films, TV shows and even low-resolution web videos – for a thrilling world of lifelike cinematic viewing.
Whatever you're watching, the latest 4K X-Reality PRO engine ensures best-ever picture quality, from movies to smartphone clips.
Best picture and sound quality
Unique to Sony, TRILUMINOS Display enriches your viewing with a wider palette of richly realistic colours, from shimmering seascapes and skies to flowers and faces.
Fabulous pictures are teamed with sumptuous sound, powered by cutting-edge Magnetic Fluid Speaker technology for crisp dialogue and music.
BRAVIA X9 even connects wirelessly with your NFC-compatible Xperia smartphone or tablet at a touch. 'Mirror' your device wirelessly and enjoy photos, videos, games and apps on the big screen with rich colour and detail. Browse schedules, record shows and explore related content with TV SideView, the intuitive app for your Android or iOS device.
Sensational pictures and sound are complemented by an arresting new twist on 'Sense of Quartz' styling that makes a luxurious statement in any living space.
The new BRAVIA X9 4K LED Ultra HD TV is available in a choice of 55" (€4,500) or 65" (€7,000) screen sizes.