Best places to stay to support rhino conservation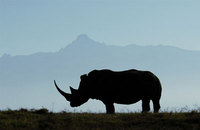 In the wake of the recent dramatic escalation of rhino poaching and Prince William's appeal for further efforts to help protect these endangered species, here are some of our recommended places to stay where you can help this worthwhile cause while on holiday.
Due to the increasing and very lucrative demand for rhino horn from the East, rhino poaching has reached horrific highs in the last few years and is only getting worse despite the huge security measures undertaken in sub-Saharan Africa's best known national parks. By staying in lodges in the below conservancies, you are contributing financially towards the resources required to improve rhino conservation, and in some places you also have the opportunity to track the rhino and contribute towards research.
Kenya
Kenya's Laikipia region north of Mount Kenya is one of Africa's main strongholds of rhino conservation. There are eight private rhino sanctuaries in this 9,500km sq swathe of former farmland, hosting 49% of the Kenyan black rhino population and 70% of the white rhino population. Lewa Conservancy has 65 Black Rhino, home to almost 10% of Kenya's black rhino population, and you can learn more about the projects and if you are lucky meet (or give a bath to) the blind baby rhino orphan which is currently being hand reared. The nearby Ol Pejeta Conservancy also has a very strong rhino programme, and East Africa's largest sanctuary where you can visit these amazing creatures up close and learn more about the work. This area also boasts wonderful game viewing, featuring many of the rarer northern species, the opportunity to get out on foot, and is great for families. On Ol Pejeta you can also go lion tracking, mountain biking and canoeing. Stay at Lewa House (Lewa Conservancy), a lovely family-run lodge with beautiful views and unique rooms, or Kicheche Laikipia Camp (Ol Pejeta), a very well-run luxury tented camp with great charm.
Namibia
After three decades of Save the Rhino Trust's pioneering efforts with the Namibian government, WWF and communities, the black rhino population has quintupled in size. The million-acre Palmwag Reserve in north-west Namibia is one of Save the Rhino's earliest projects, and here you have the unique opportunity to track and observe desert-adapted black rhino against the area's dramatic backdrop of limestone plateaux, desert plains and petrified forests. Best suited to safari lovers, it is not as prolific in game as some areas but walking and tracking in this beautiful landscape is breathtaking. Stay at Desert Rhino Camp, a remote tented camp run in conjunction with Save the Rhino.
South Africa
292 rhinos have been killed in South Africa so far this year. &Beyond Phinda Private Game Reserve in KwaZulu Natal has been committed for many years to the plight of the rhino, and it is rated as one of the most important private white rhino reserves in the country, while Kariega Game Reserve, in the Eastern Cape, also has a strong commitment to saving its rhino population. Stay at one of the uber-luxury lodges on Phinda and combine with some time on the beach on the East Coast or at the more low-key Kariega, which is within easy reach of the Garden Route.
For further information, farsideafrica.com.