Queenstown voted one of world's top destinations on TripAdvisor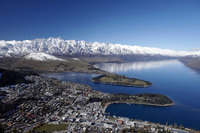 Queenstown has been named one of the world's Top 25 Travellers' Choice Destinations by TripAdvisor, the world's largest online travel community.
As well as rising to 25th place on the international list, the four season lake and alpine resort was also named best destination in New Zealand and second best in the South Pacific.
The Travellers' Choice Destinations awards honour top travel spots worldwide based on millions of valuable reviews and opinions from TripAdvisor travellers. Award winners were determined based on the popularity of destinations, taking into account travellers' favourites and most highly rated places.
Destination Queenstown CEO Graham Budd was delighted with award and said it was a fantastic international achievement for the resort.
"We're aware of the power of Trip Advisor in influencing the travelling community, so the news that Queenstown has been ranked by millions of travellers worldwide alongside cities like Paris, New York and London is a testament to the quality of our operators and the exceptional travel experience they deliver."
The cosmopolitan resort town, famous for its spectacular scenery and huge range of world-class experiences, has previously earned international accolades from other travel authorities such as Lonely Planet, Condé Naste and National Geographic.
For the complete list of 2013 Travellers' Choice Destinations winners, go to: tripadvisor.com/TravelersChoice-Destinations.
For more information about Queenstown, visit: queenstownNZ.co.nz.