TT tyre advice for maximum performance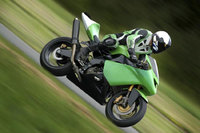 Riders visiting this year's Isle of Man TT races are being reminded to check their tyres before heading off to maximise their own performance.

The timely advice has been issued by TyreSafe and follows its recent PACT campaign showing bikers that tyre maintenance is essential to get the best out of their machines.

Stuart Jackson, chairman, TyreSafe, said: "Whether you're planning a trip to the TT races on the Isle of Man or just taking a relaxing ride out in your local area, it's always sensible to look after your tyres for a smoother ride.

"Just a few simple precautions can provide better handling and grip. The added benefit is that properly maintained tyres can actually reduce running costs."

While TyreSafe recommends that tyres should be checked by a trained professional, it does have a dedicated motorbike tyre safety section on its website – tyresafe.org – for those carrying out the checks themselves.

Here, visitors will also find a host of tyre safety tips and maintenance advice, including running-in guidance for newly fitted tyres and the dangers of incorrect tyre pressure.

Bikers who check the tyres themselves, however, should pay particular attention to ensuring that there are no cuts, cracks or bulges in the tyres and that the tyre is correctly inflated.

Adequate tread depth is also vitally important – especially given the risk of a sudden downpour – to ensure the bike is able to handle any wet weather conditions.

"There's no doubt that the TT races are a highlight of the year for many bikers and for some it's become an annual pilgrimage. It's therefore essential that they check their tyres to get the maximum performance from their bike, as well as staying as safe as possible when making the trip," added Jackson.

For more information about TyreSafe and its PACT campaign, visit tyresafe.org.