'Ideal' building and location all Zapp-ed up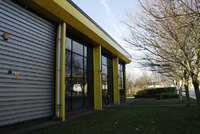 The newly refurbished UK headquarters of a steel stockholders will be the 'ideal tool' to enable the company to reach the next level of growth.
Zapp GB Ltd is relocating from Parkway Close in Sheffield to a new 22,400 sq ft 'showroom' – Unit One at Thorncliffe Distribution Centre - thanks to a deal brokered by Knight Frank on behalf of landlord Threadneedle.
Mark Wragg, service centre manager at Zapp GB Ltd, said: "Knight Frank has been instrumental in finding the right location and the right premises for Zapp to further our development. The new headquarters is the ideal tool to enable us to reach the next level of growth.
"The building is in an area that puts us in close proximity to key suppliers and manufacturers offering niche products, so it's the perfect geographical location for the company and its clients.
"We offer a brand of product that is second to none and so our location and building have to reflect that. To sell a Rolls Royce, you need a showroom. It's the same with Zapp products - we believe this building is effectively our showroom."
The former home of a Virgin Media database, the modern industrial premises in Chapeltown, Sheffield, sits on its own self-contained site and incorporates two offices and a substantial fenced yard area. Currently undergoing an extensive refurbishment programme overseen by landlord Threadneedle, the building is expected to be ready for Zapp to move into by the end of July.
Knight Frank partner Tim Bottrill said: "These modern industrial premises are based at a popular and well-established business park, just minutes from both the M1 and the M18 motorways.
"Thorncliffe offers businesses an excellent environment as well as strong labour, supplier and transport links. As Zapp has indentified, these selling points make it an ideal space to showcase services and products – and expand the business further."