One in six British weddings now take place abroad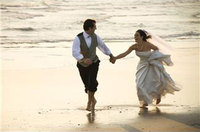 The lure of warm weather and cheaper prices is prompting an increasing number of British couples to get married abroad, according to new research from LV= travel insurance.

One in six married couples - 280,000 in total - tied-the-knot overseas in the past five years, an increase of almost 20% compared to a decade ago.

Getting married abroad is a tempting prospect for British couples with guaranteed good weather and a smaller bill for the festivities. While travel and accommodation are understandably more expensive for overseas weddings, the venue, entertainment, catering, photography, decorations and the honeymoon are all typically cheaper. In fact, overseas weddings cost £10,000 less than the average ceremony in the UK.

Yet while it's often cheaper for the couples to get married overseas, it's far more costly for their guests. Brits have forked out almost £7.3 billion to attend weddings abroad in the past five years, including the cost of new outfits, travel, accommodation and a wedding gift. On average, guests pay almost £2,000 each to go to an overseas wedding - almost four times as much as they would spend to attend a UK wedding (£500).

As a result, almost a quarter (23%) of those who attended a wedding overseas say they had to cut back on their own holiday in order to attend, while a similar number had to sacrifice their vacation altogether. One in ten (9%) Brits say they have had to turn down invitations for overseas weddings as it was just too expensive to attend.

The USA is the most popular country for an overseas wedding followed by Spain and Italy, while Las Vegas is the most visited city. The main reason couples give for choosing the destination is that they have a family connection with the country (63%), with better weather (32%) and an exotic setting (27%) being the other top reasons. Some couples say they chose to marry abroad as they simply didn't want the big wedding they would have had in the UK (22%) or that they just didn't want to make a fuss (11%).

In total, 3.7 million Brits (8%) have attended a wedding abroad in the past five years, and a further one in 10 (11%) have been invited to one in the near future. In order to meet the additional expense, some may be tempted to cut back on travel insurance yet the research reveals that one in ten (9%) people who attend a wedding abroad get sick or injured during the trip, so scrimping on cover may be a false economy.

Selwyn Fernandes, Managing Director of LV= travel insurance, comments: "Choosing to marry abroad can be a savvy move to save money and guarantee good weather - but it can be costly if you're a guest. Combining the wedding trip with your annual holiday is a good way to save cash, but you shouldn't cut back on travel insurance. With as many as one in ten guests getting sick or injured at overseas weddings, it's vital you're covered should the worst happen, even if you're only away for a few days."

For further details, log on to lv.com.