New discoveries in North Sealand - Denmark's Royal retreat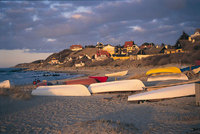 North Sealand, the area north of Copenhagen, has been the playground for city dwellers for centuries. More commonly known as the "Danish Riviera" it boasts some of Denmark's finest sandy beaches. The area is also popular with royalty, has numerous castles and historic buildings as well as woodland, refreshing lakes and green open landscapes.
It's now even easier to explore the many fascinating attractions and natural beauty of the area with a choice of five suggested adventure holiday routes stretching across the region to suit any holidaymaker.
Love on a Bike
The perfect terrain for cycling with a network of well-marked and safe cycle paths, North Sealand provides a romantic backdrop for couples to explore the area and enjoy the freedom of the open road on a new series of 3 or 4 day mini-breaks called 'Love on a Bike'. There are 3 routes to choose from taking in either world class culture with a route based in Elsinore, where the famous Kronborg Castle, immortalised in Shakespeare's Hamlet, towers over the town. From here cycle on to the beautiful Renaissance, Frederiksborg Castle, which is surrounded by a stunning Italianate Baroque garden and the elegant Fredensborg Palace nearby, which has recently become the new home to Crown Prince Frederik and Crown Princess Mary and their young family. The route also suggests a visit to the Louisiana Museum of Modern Art, where exhibiting artists include Picasso, Warhol and Bacon. A second option discovers North Sealand's picturesque harbours and beaches and a third option takes a romantic route along the 'Danish Riviera' with a luxury stay at Helenkilde Beach Hotel in Tisvildeleje. All practical details have been taken care of so that couples can enjoy the company of one another without having to worry about carrying their luggage. And at the end of a day in the saddle there's a delicious meal and a choice of romantic beach hotels, easy going hostels or cosy B&Bs. UK operator Inn Travel offer packages.
Along the Danish Riviera
Strung like pearls along the coast the seaside towns of Hundested, Tisvildeleje, Gilleleje and Hornbaek offer the old style charm of a traditional family holiday. With the sand between your toes, relax as life drifts by in the child friendly, shallow waters of the best beaches in Denmark and take inspiration to explore the region with a choice of three suggested driving routes 'Along the Danish Riviera'. There's the opportunity to sail on a fishing boat; taste the local cuisine at a choice of gourmet seafood restaurants and even take a short ferry ride across to nearby Sweden. Drop into any of the towns and take in the local atmosphere, such as the Sand Sculpture Festival in Hundested which takes place throughout the summer and will see 10 giant sand sculptures created by the best international sand artists. Or for spa enthusiasts, be sure to visit the famous seaside resort of Hornbaek, stroll past some of the Denmark's most exclusive holiday homes and sample a spa treatment at fashion designer Ilse Jacobsen new day spa that is due to open in August 2013.
Dessert Weekend
Also new for this year is the enticing 'Dessert Weekend' getaway, an indulgent break and perfect for sweet-toothed visitors wanting to sample a tasty Danish treat in good company. There are a choice of activities that include a tour of the workshop of Denmark's top chocolatier, Peter Beier's, which also offers chocolate-making courses; a visit to Kronborg Castle for a tour of the historic royal dessert kitchens; the opportunity to sample a menu composed exclusively of desserts; eat lunch overlooking the magnificent Frederiksborg Castle or join a workshop creating desserts from raw ingredients that you yourself have harvested. Then round off the weekend with a relaxing spa treatment at the historic seaside Hotel Helenekilde in Tisvildeleje or the beautiful Gilleleje Badehotel and sip cocktails at sunset. Ideal for couples, groups of friends, mothers and daughters - this is the ultimate pleasure seeker's weekend getaway.
Walks for Body and Soul
Taking time for relaxation in the slow lane a new choice of hiking tours of North Sealand have been devised for couples and friends. Using suggested routes on a 'Walks for Body and Soul' hiking holiday there are three itineraries that discover the historical attractions of the region such as the 'Danish Abbey Route', which follows Northern Europe's 'Pilgrim Route', and links palaces and castles by footpaths and small roads with about 40 places where an abbey or priory still stands. This route includes a visit to Esrum Abbey, which offers welcome respite in the large herb garden that provides ingredients for its own production of food items including herb scented salt and freshly brewed beer. Alternatively, take a route through some of North Sealand's charming coastal towns on the 'Feel and taste the history' route, where local restaurants and cafes are at the centre stage of the hike, free from luggage that is conveyed from hotel to hotel.
Kings Challenge
For more active families and friends, the Kings Challenge is the fifth option and a great opportunity to bond together through taxing activities and endless fun. Three packages have been created to suit any holiday situation, from a 'Family Explorer' route, which includes tree climbing, to the hardcore 'Kings Challenge' route where guests eventually compete in the Kings Challenge Mini Triathlon. The Kings Challenge adventure route is the supreme package for those wishing to get in shape, test their bodies to the limit, or to simply try out a new sport. Flexibility on duration, activities are available on all routes, making it the ultimate adventure holiday for older families, friends and sport enthusiasts.
Getting there?
Copenhagen is well served by daily flights from across the UK using SAS, BA, Norwegian and Easyjet.
Accommodation is available in a variety of hotels, hostels, B&B's and campsites and private houses.
For more details, go to visitnorthsealand.com/ln-int/north-sealand/accommodation.
For more information on Royal North Sealand, visit visitnorthsealand.com.

For more general information on Denmark, go to VisitDenmark.co.uk.