Thrifty Brits opt for non-euro hotspots to get more for their money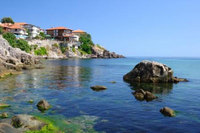 Specialist last minute holiday website, Latedeals.co.uk, has revealed that bookings to non-euro destinations are up 60 per cent compared to this time last year. While four of the five most popular resorts booked during May were to resorts in Turkey, Egypt, Tunisia and Bulgaria.
The figures reinforce the trend for UK holidaymakers to favour destinations where they can make their holiday spends stretch further.
To corroborate this, Latedeals.co.uk has compared the average price of four holiday essentials – a meal for two, a bottle of local beer, a small bottle of water and a loaf of bread - from four popular eurozone countries with four non-eurozone countries. And true to form, it's the holiday hotspots from outside the eurozone that fare better.
A standard three course meal for two in Spain (€40.00) costs twice as much as the same meal in Turkey and Bulgaria (€20.00), while eating out in France and Italy (€45.00) is on average three times more expensive than in Tunisia (€15.50) and Egypt (€16.40).
There are also major disparities with the price of staples such as bread. A loaf of bread in Italy (€1.50) costs over seven times more than a loaf in Tunisia (€0.17). In Spain and Portugal, it costs on average €1, which is around double what you'd pay for a Bulgarian (€0.51) or Turkish (€0.41) loaf.
While the price of a local beer in Spain and Portugal (€2.00) is on a par with Turkey, Tunisia and Egypt, Bulgaria is the place for beer drinkers to go with an average price of €1.02. There is also a big difference in bottled water with a small bottle ranging from €0.90 to €1.50 in the four eurozone destinations, compared to only €0.20 in Tunisia rising to €0.51 in Bulgaria.
Calum Macdonald from Latedeals.co.uk says: "There's been a significant increase in bookings to non euro destinations this year and value for money remains a key priority. UK holidaymakers are more travel savvy and are not only looking for a great last minute holiday deal, they want their holiday spends to go much further."
"Countries such Bulgaria, Turkey, Tunisia and Egypt offer great value combined with a perfect mix of scorching sun, beautiful beaches, stunning scenery, colourful history and eclectic culture."