Summer Events at Mazagan Beach & Golf Resort Morocco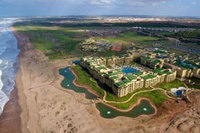 Mazagan Beach & Golf Resort, Morocco has introduced the resort's new Chiringuito beach club in time for the summer, along with many additional exciting events, openings and activities.

Chiringuito Beach Club – For sun socialites

Mazagan Beach & Golf Resort has recently opened their new beach club, Chiringuito. Guests can now celebrate summer by topping up their tans on luxurious beach loungers, dancing to the beats of well-known DJ's, shopping or adventure seeking. Chiringuito foodie favourites include everything from fresh Japanese sushi and sashimi to tapas style dishes such as Spanish mussels and octopus. Groups can relax with a carafe of refreshing watermelon sangria, take a stroll to the the stylish Chiringuito Boutique to complete the summer wardrobe or get active at the Leisure Centre with the likes of surfing or quad biking on the beach.

Kids PSG Football Academy – For premier football stars in the making

For football fanatics aged 4 – 16, Mazagan is launching the PSG football academy in June 2013. Since PSG was founded in 1970, it has been known for its specialist football training aimed at young football fans, offering programmes suited to future elite players. Lead by PSG-trained instructors, all participants will benefit from training sessions worthy of the football clubs, as well as a personalised follow-up to monitor their progression throughout the season. Programmes can be anything from one day to a three-month package, which include special benefits for parents.

Other sporty sensations for kids at Mazagan include mountain biking, treasure hunting, pony back riding and even go-karting in their very own 'Ferrari Pit'.

Fauchon Paris at Mazagan – Best for gourmands

For guests with a sweet tooth, Mazagan is introducing Fauchon Paris at the Atrium this summer. Day or night, delicious Parisian treats are on offer from famous macaroons and éclairs to mouth-watering savoury tarts. Mazagan inhabitants are warned very few are able to resist the 1001 delights from this renowned Parisian luxury caterer.

'Thousand And One Nights Moroccan Dinner' – An authentic experience

Guests can now experience an authentic dinner in a Berber tent at Al Firma. The menu offers Moroccan favourites, including delicious tagine, a section of salads and mouth-watering grills. The magical evening is complimented by classic belly dancers and a Moroccan oud performance. The 'Thousand And One Nights Moroccan Dinner' experience is running from June - August on Fridays: 8pm – Midnight at Al Firma.
For more information, visit mazaganbeachresort.com.