Get bikini ready for summer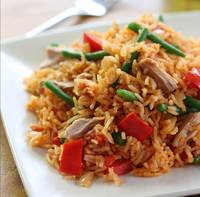 Whether you're staying at home or going away this year, everybody wants to look great wearing their summer clothes. So, with the warmer weather approaching Canned Food UK has prepared some top tips for creating nutritious meals which will have you feeling and looking your best this summer.
After months of wrapping up warm, now's the time to swap jumpers for dresses or even a bikini, and get ready to show some skin. For a complexion that glows, up your intake of oily fish and brightly coloured fruits and vegetables. Canned varieties of both provide excellent sources of skin-loving nutrients such as omega 3 and vitamin A, C and E which are vital for maintaining healthy skin.
Canned Food UK's Tomato and Tuna Pilaf comes in at just 393 calories per serving and uses convenient canned tuna and canned chopped tomatoes for a deliciously healthy dish that is also one of your 5-A-DAY. Or alternatively, Canned Food UK's Chick pea and Flageolet Bean Patties with Citrus Relish makes for a quick and easy lunch that's under 300 calories.
Don't let cravings for fatty snacks stop you looking great this summer! Canned Food UK has plenty of healthy snack ideas to help you banish hunger pangs between meals, or even give you a much needed energy boost between workouts.

Why not whip up a healthy portion of Salmon Pate for those moments when a bag of crisps seem all too tempting? Salmon Pate is so easy as it only has a small handful of ingredients and takes just minutes to create. For something sweet try Canned Food UK's Berried Treasure recipe that uses healthy yoghurt, canned fruits and muesli. Fruits canned in their own juices are a really healthy addition to desserts. This particular recipe uses canned strawberries, which contain Vitamin C to maintain strong nails and hair. Meanwhile the rice pudding is a great source of Riboflavin, which will have your skin looking healthy.
Make sure you get the balance right, and don't miss out on including essential fats and nutrients in your diet. Nutritionist Amanda Hamilton has created the Canned Food UK Everyday Nutrition Chart to help you make the most of your cupboard when creating healthy meals. Just download or even order your own free Everyday Nutrition poster from cannedfood.co.uk where you'll also find Canned Food UK's free u.can cook iPhone app, which features more than 80 delicious recipes, plus several step-by step video demonstrations featuring celebrity chef James Martin.
Tomato and Tuna Pilaf
Serves: 2-3
Preparation Time: 10 minutes
Cooking Time: 20 minutes
Ingredients
185g can tuna, drained and broken into large pieces
227g can chopped tomatoes
75g green beans, halved or frozen peas
½ small red pepper, roughly chopped
25g butter
1 Tbsp olive oil
1 small onion, finely chopped
1 small red chilli, finely chopped (optional)
150g Basmati rice
200ml vegetable stock
1 Tbsp coriander or parsley, for garnish (optional)
Method

Heat the butter and oil in a pan.

Add the chopped onion and fry until it is just softening, then add the pepper and chilli if using and continue frying for two minutes.

Add the rice and mix well to coat it with the butter and oil,

Then add the tomatoes and vegetable stock and bring to the boil. Cover with a tight-fitting lid, reduce the heat and simmer very gently for about 15 minutes or until the liquid has been absorbed and the rice is cooked.

Heat a pan of boiling water, plunge the beans into the water, then boil for a minute and drain.

Gently stir the beans and tuna into the cooked rice mixture, replace the lid and leave to cook through for five minutes.

Delicious served garnished with chopped parsley or coriander.
Hints and tips

For an even healthier dish, replace tuna with canned oily fish such as salmon, sardines or mackerel, which contain Omega-3 fatty acids. Use sustainable canned fish when possible.
Nutrition Information (per serving)
Calories: 393
Protein: 22.5g
Carbs: 33.1g
Sugars: 8.5g
Fat: 19.9g
Sat Fat: 8.0g
Fibre: 2.8g
Sodium: 0.5g
Chick pea and Flageolet bean patties with citrus relish
Serves: 2-3
Preparation Time: 5 minutes
Cooking Time: 10 minutes
Ingredients
For the patties:
1 x 410g can chickpeas, drained
1 x 400g can flageolet beans, drained
½ onion, finely chopped
1 egg, beaten with pepper
½ tsp turmeric and paprika
1 tbsp chopped fresh parsley
25g / 1oz breadcrumbs
Oil for frying
For the relish:
1 orange, peeled and segmented
1 red onion, finely sliced
1tbsp chopped coriander
Method

1. Put all the ingredients for the patties in a large bowl and mash with a fork. The mixture should have the texture to lumpy mashed potatoes.

2. Take 1 tablespoon of mixture at a time and form into a ball.

3. Press down to form a little patty and grill for 4 minutes on each side until golden brown.

4. Mix together the relish ingredients.

How to serve: Serve in warm pitta bread with plenty of relish and mixed salad.
Nutritional value (per serving)
Calories: 251
Protein: 11 g
Carbohydrates: 21.6 g
Fat: 13.5 g
Salmon Pate
Serves: 4
Preparation Time: 10 minutes
Ingredients:
213g can pink salmon, drained
100g cream cheese
1 Tbsp dill
2 tsp lemon juice
Black pepper for seasoning
Salad
Method:
Place the salmon in a bowl with the cream cheese.
Add the dill and lemon juice.
Mash together and season with black pepper.
Serve with toast and a side salad.
Hints and Tips:

Dill could be replaced with chives if preferred.
Nutrition Information (per serving):
Calories: 175
Protein: 10.7g
Carbs: 0.2g
Sugars: 0.1g
Fat: 14.6g
Sat Fat: 8.0g
Fibre: 0.0g
Sodium: 0.3g
Berried Treasure
Serves 4
Preparation & Cooking Time: 30 minutes
Ingredients:
25g butter
15ml (1 tablespoon) golden syrup
100g muesli
411g can apricots, chopped
425g can rice pudding
410g can strawberries, drained
300g can raspberries, drained
Method

1. Slowly melt 25g butter with 15ml (1 tablespoon) golden syrup in a pan. Add 100g muesli, mix and set aside to cool.

2. Divide all the apricots (chopped) from 1 x 411g can evenly between 4 glasses or sundae glass.

3. Cover each apricot layer with 1 tablespoon of rice pudding from a 1 x 425g can.

4. Add a layer of (drained) strawberries using all from a 1 x 410g can followed by a tablespoon of rice pudding.

5. Then add 1 x 300g can raspberries (drained) followed by a layer of rice pudding.

6. Divide the muesli topping evenly between the four glasses. Serve immediately.
Nutritional value (per serving)
Calories: 310
Protein: 5.5 g
Carbohydrates: 52.7 g
Fat: 8.6 g
Fibre: 3.8 g