Fleewinter says 'I Do' in Sri Lanka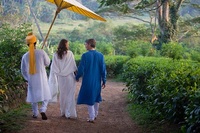 Fleewinter has introduced wedding packages to its rapidly growing portfolio of holidays to Sri Lanka. There are three different places in which to say 'I do' – with options of beach or tea plantations – and a wide choice of type of service: Christian, Muslim, Hindu, non-religious registrar or a traditional and colourful Buddhist ceremony. All marriage licenses are valid under UK law.
The traditional Sri Lankan Buddhist ceremony dates back to the third century BC. It is laden with beautiful rituals and takes place on a wooden base (Poruwa) decorated with flowers, while the date and time is often chosen with help from an astrologer who compares the bride and groom's horoscopes.
Couples are often accompanied to the Poruwa by drummers and Kandyan dancers and, during the ceremony, betel leaf bundles are offered to the Gods with a request that protection is provided to the seven generations that originate from the marriage.
Couples exchange rings but the groom also dresses the bride with a gold necklace and there is a chanting of blessings, while the couple's little fingers are tied together symbolise the bond and as the newlyweds step down from the 'Poruwa', a coconut is broken as a symbolic gesture to drive away evil spirits (elements of the ceremony can be incorporated into church or non-denominational services).
Kahanda Kanda, Galle (7 bedrooms, sleeping 14)
Kahanda Kanda near Galle in southwest Sri Lanka is set in the lush tropical surroundings of a working tea estate. It offers a haven of peace, tranquillity & exquisite style and has breathtaking panoramic views of palm fringed jungle, a carpet of tea and the Indian Ocean. The setting is ideally suited for weddings and there is a choice of packages starting at £1925.
Nisala Arana, Bentota (6 bedrooms sleeping 12)
Nisala Arana is set amidst lush greenery and tropical gardens, minutes from the beach. The resort has just three colonial style villas, which can be exclusively rented for the big day. The ceremony takes place in a Garden of Eden setting and you can choose anything from a simple decor with rows of burning oil lamps and fragrant white jasmine flowers draped over a garden wedding arch, to the more elaborate traditional Sri Lankan wedding with exotic Kandyan dancers and drummers. Nisala Arana offers three wedding ceremony packages from £650.
Reef Villa, Wadduwa (7 bedrooms sleeps 14)
Reef Villa offers picturesque tropical, beachside weddings. The luxurious property is set in three acres of tropical gardens, with the Indian Ocean and golden sands providing the perfect romantic backdrop. The resort is located in the small unspoilt seaside hamlet of Wadduwa on the south west coast of Sri Lanka. The resort also boasts an all-weather tennis court, large swimming pool, huge lily ponds, garden pavilions and gourmet kitchens. The house has seven large and luxurious suites for you and your guests to enjoy if you wish to book the villa exclusively. Wedding packages start at £0 if you book a 7 nights stay at the hotel (from £1070 per person).
For further information, visit fleewinter.com.