Ford Fiesta, the UK's family favourite, tops four million sales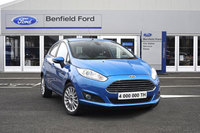 The keys to the four millionth Ford Fiesta sold in the UK – a Fiesta Zetec in Candy Blue with the award-winning 1.0-litre EcoBoost engine – were presented to a proud customer at a Ford main dealer in the North East today.

Fiesta has led the small car segment in the UK for 27 of its 37 years and has been Britain's overall best seller since 2009 when it overtook the Ford Focus. Over 17 million Ford Fiesta models have been sold in 80 markets worldwide. Parked bumper to bumper, they would stretch 1.7 times around the world.

Customer Michelle Wardale, who has owned three Fords previously, collected her special new Fiesta from Benfield Ford Sunderland. "When I was told I'd chosen the four millionth Fiesta I was totally shocked – it's not the sort of thing that normally happens to me! I just love the style of the Fiesta, it's very economical to run and does everything I need," she said.

Mark Ovenden, Ford Britain chairman and managing director, said: "The success of the Ford Fiesta means a great deal to the whole Ford team. This car combines style, value, driving dynamics and remarkable technologies such as the award-winning EcoBoost engine and Ford MyKey. Today it outsells its nearest retail competitor by more than two to one – and that really tells the story of this extraordinary car."

The Fiesta name was chosen by Henry Ford II in 1975 as it embodied the fun spirit of a segment-defining car, and one which went on to pick up a British Design Council award in 1978. Today's Fiesta has amassed eight awards in the first half of this year alone. Most recently the Fiesta was crowned Women's World Car of the Year 2013.

WWCoTY UK judge, Victoria MacMillan Bell, said: "The Fiesta has a real high-end look and feel to it. Pair this with the multi-award-winning 1.0 litre EcoBoost engine which reaches range and performance levels never seen before, and this stylish pocket rocket wins in every category."

Today UK-based engineers at Ford's research and development centre at Dunton, in Essex, and at Ford's Dagenham Diesel Centre, in East London, develop the powertrains driving the Ford Fiesta success story. More than 30 years ago Fiesta manufacturing was based in Dagenham, with nearly three million rolling off the line between 1976 and 2002. Today, Dagenham specialises in the production of high-tech, low CO2 diesel engines for virtually all of Ford's line-up of cars and commercial vehicles, across Europe and beyond, including the Ford Fiesta.

Dunton Technical Centre is home to Ford's latest technical masterpiece –the 1.0-litre EcoBoost power unit recently named International Engine of the Year for the second year running, and a popular choice for Fiesta customers. Technical progress since the original Fiesta was introduced is a step-change. It would take more than 80 modern-day Fiestas to generate the NOx emissions of a single 1976 Mk1 model for example. This first-generation Fiesta, with the 46PS four-cylinder 950cc petrol engine, weighed around 800kg and achieved 37.7mpg, with CO2 emissions of almost 150g/km. Today's fully-equipped model, with the 1.0-litre 100PS EcoBoost engine, weighs nearly 1,100kg, yet boasts a combined fuel economy of 65.7mpg and just 99g/km CO2 emissions.

A third of Fiesta buyers in the UK today choose the turbo-charged 1.0-litre EcoBoost engine, and almost 90 per cent opt for luxury specification – Zetec, Titanium or Titanium X, with Ford SYNC voice-controlled connectivity system. In contrast, the lead-in Ford Fiesta of 1976, available for less than £2,000, modestly featured PVC upholstery, carpets and laminated windscreen as standard.

Today's equivalent, the Ford Fiesta Style, is priced at £11,495 and brings MyKey (limiting vehicle speed and audio volume for novice drivers), radio/CD with USB connection, remote central locking, electrically operated front windows, electrically operated and heated door mirrors, air conditioning, Hill Launch Assist, seven airbags, Electronic Stability Programme and headlight courtesy delay.

Britain's surging appetite for fast Fords has put orders for the latest 182PS Fiesta STon track to double initial forecasts. Equipped with the 1.6-litre EcoBoost engine, manufactured at Ford's Bridgend Plant in Wales, the Fiesta ST achieves 0-62mph in 6.9sec and a top speed of 137mph.