Zac Goldsmith teams up with Mitsubishi Colt ClearTec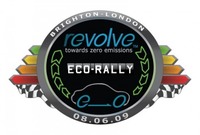 Mitsubishi Motors has announced that Zac Goldsmith – Conservative Party politician, media commentator and environmentalist – is to drive the low CO2 Colt ClearTec at the Revolve Eco-Rally on Monday 8th June.
At 33 years old, with a wife and three children, Zac is the ideal person to help showcase the Mitsubishi Colt's package of CO2 reducing technologies – named ClearTec – in this flexible, no compromise family car. With Auto Stop & Go technology, low rolling resistance tyres, a longer final gear ratio, high viscosity engine oil and a high performance 'intelligent' alternator, the Colt CZ2 ClearTec reduces CO2 emissions by 24g/km (17%) to 119g/km over the regular CZ2, bringing it down four VED bands to £35 Band B, a saving of £90 per year.
At the same time, by delivering as much as 65.7 MPG, Zac could easily complete the entire rally on as little as 5 litres of fuel. He could even get from Richmond Park, where he is the Conservative Party's Parliamentary Candidate standing at the next General Election, to his organic farmhouse in Devon on as little as a quarter of a tank.
Zac has great credentials as an environmental ambassador. He joined the Ecologist magazine in 1997 and became editor from 1998 to 2007 and has launched various campaigns on climate change, GM food and pesticides. In 2005, he was invited to oversee the Conservative Party's Quality of Life Policy Group, which published its policy recommendations, called the Blueprint for a Green Economy, on 13 September 2007. The document covered issues ranging from transport and housing to food and farming, biodiversity and the countryside and energy policy.
The Colt 1.3 CZ2 ClearTec starts from just £9,599 list price.