Electric i MiEV city car in Government 'real world' trials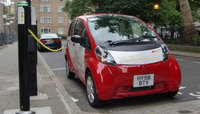 The all-electric Mitsubishi i MiEV city car is set to play a prominent role in one of the Government's recently announced Ultra Low Carbon Vehicle Demonstrator projects being run by the Technology Strategy Board. The Mitsubishi will take part in the West Midlands' CABLED (Coventry and Birmingham Low Emission Demonstrators) consortium, which includes industry, council, academic and power organisations, and is led by design and engineering consultant, Arup.
The Secretary of State for Transport, Lord Adonis, and Lord Drayson, the Minister for Science and Innovation, launched the Technology Strategy Board project yesterday, in which eight winning consortia will receive a total of £25 million from the Government to help speed up the introduction of ultra low carbon vehicles. The project brings together manufacturers, power companies, Regional Development Agencies, councils and academic institutions in an attempt to accelerate the reality of a greener future of transport in the UK.
Mitsubishi will showcase its award-winning all-electric i MiEV city car, with 25 vehicles going on the road as part of the trial from November this year. A total of approximately three hundred and forty vehicles will begin trials on UK roads within the next six to eighteen months, which makes this the biggest project of its kind.
The i MiEV's vital statistics are sure to make it a prominent and successful player in the trials: with a top speed of 87mph, a range of well over 80 miles, and the ability to carry four adult passengers and luggage in comfort. It can also recharge from flat-to-full in 6 hours via a 240V UK supply, or fast-charge from flat to 80 percent in just 20-30 minutes – all features that will ensure the car shows off how practical it is for everyday use.
Mitsubishi's Managing Director, Lance Bradley, said "It is excellent news that the i MiEV will play such a prominent role in this real-world trial. It is a great platform for us to show off our advanced electric vehicle technology, which itself is acting as a catalyst for the many other CO2 lowering environmental technologies we have in the near future."