Rise of the 'Staycation' as the sun shines in Britain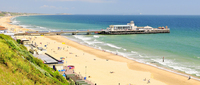 A Westcountry travel company has reported a 10% rise in bookings of UK breaks since the hot weather began this July.
Bakers Dolphin, based in Weston-super-Mare, says the sun shining in Britain has caused holiday-makers to revise their overseas holiday plans and stay in this country this summer.
Coach tours to Bournemouth and other seaside towns are selling fast and Sales and Marketing Director Amanda Harrington says the surge shows no signs of slowing down:
"Since the weather has taken a turn for the better this month we've seen a steep rise in the number of UK breaks being booked up.
"Britain is such a fantastic place to explore and holiday in especially when the sun is shining so I'm not surprised at all. Holidays abroad are great too but many of us are becoming complacent about visiting Spain and Greece every year so it's lovely to see people taking an interest in visiting the amazing destinations we have right on our doorstep.
"Down south there are some fabulous beaches which can often be mistaken for their counterparts on the Mediterranean , while the North and Scotland offer unbelievable scenery ideal for a walking holiday.
"Britain also offers gorgeous food, drink, entertainment and value for money all without the hassle of passports, luggage allowance and time differences!"
Bakers Dolphin has added over 40 new tours to the 2013 summer schedule many of them within the UK. Established in 1889 Bakers Dolphin provides coach holidays and public service routes across the South West.
A six-day break to Bournemouth in August is £419 with dinner, bed and breakfast. The golden sandy beaches, floral gardens and all-year round entertainment has made it a favourite holiday destination. The tour also includes a visit to Lulworth Cove, Isle of Purbeck and a drive to historic Poole.
Also available through Bakers Dolphin this summer is seven-days in Llandudno and North Wales for £489. This tour includes dinner, bed, breakfast as well as tours to Snowdonia National Park, Isle of Anglesey and Caernarfon, Vale of Conwy and Porthmadog.
Amanda continued: "There are so many hidden gems in Britain and we're really looking forward to unearthing them with our travellers this summer.
To find out more about Bakers Dolphin visit bakersdolphin.com