Alister McRae to drive Mitsubishi WRC at Rallyday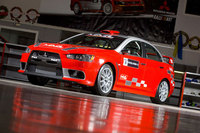 Rallyday organisers are extremely pleased to announce former British Rally Champion Alister McRae's attendance at Rallyday 2009, which takes place on Saturday 19 September at Castle Combe Circuit. Alister, who now lives in Perth, Australia, will make a very welcome return to this country to star at the UK's premier rally car show in front of an estimated 10,000 rally fans.
Alister will be driving a Mitsubishi WRC05 and the latest Mitsubishi Lancer EvoX Group N rally car, developed and supported by MML Sports. John Easton, MML Sports Managing Director, commented: "I am delighted that MML Sports is able to support this year's Rallyday by running two of the most evocative rally cars from recent years. This will be the first time that MML Sports has officially demonstrated its range and we are excited about having both cars at the event, as well as the full support infrastructure."
Spectators will also be able to see the McRae Enduro on the McRae Vision stand in the centre of the main paddock. This Rally Raid car is similar to the vehicle in which Alister successfully completed the gruelling Dakar Rally at the start of 2009. For Rally Raid and off-road enthusiasts, Rallyday introduces the all-new, dedicated Rally Raid Zone, which will showcase numerous cars and trucks from this exciting sport. The Rally Raid Zone will give visitors a chance to see vehicles such as the incredible Bowler Wildcat in action and an opportunity to experience white-knuckle rides on a special stage located behind the infamous Quarry Corner.
For newcomers to Rallyday, on-track action comes in the form of professional driving demonstrations, track sessions, circuit parades and the feature rally stage. There is also a separate spectator rally stage, using perimeter roads, plus a new sideways driving competition - "Strictly Sideways".
Off track, there is a host of displays where visitors can have a close look at some of the world's most iconic rally cars, which have made rallying history through the years. The paddock is packed full of static displays plus the main event stage, where rallying celebrities are interviewed. There are also numerous trade exhibitors, ranging from major car manufacturers to individual specialists offering a diverse array of rally merchandise.
Rallyday Interactive is where visitors can go further than just spectate; whether it's a rally simulator, radio-controlled rally cars, or a full-on,white-knuckle ride in a selection of rally cars, there are many activities for people to participate in.
Tickets are exceptional value and if booked before 31 August cost just £10 per adult and accompanied children go FREE! Tickets on the gate cost £15 per adult and £3 for children.
For further event details and ticket bookings, visit rallyday.com.