Mitsubishi i-MiEV - 900 pre-orders in one month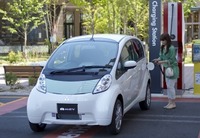 Mitsubishi began delivery of its i-MiEV electric city car in Japan from July 2009, mainly to corporations and local authorities.
Since then, MMC has already received orders for all 1,400 units to be distributed during the 2009 fiscal year.
MMC plans to start sales to individuals from April 2010 tapping into an additional set of customers. In preparation, it started to take pre-orders through dealerships since 31st July 2009. At the end of August, after only a month, 900 pre-orders were already received.
MMC expects that individual customers will come from various households throughout Japan, owning multiple vehicles and using i-MiEV as their second car for a wide range of applications (i.e.: going to work, shopping, leisure, etc.). Main purchasing reasons such as its "eco-friendliness," "it can be charged at home," etc…, reflect its convenience, as well as "good fuel economy and cheap maintenance," demonstrating interest in its economic efficiency.
MMC has already begun sequential delivery of this fiscal year's batch from July 23rd, and has already delivered 387 units (as of August 31st).