Scorpion system for Mitsibishi Colt CZT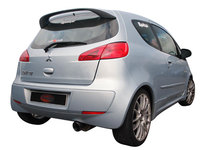 Extraction masters Scorpion have released their latest design, a superb looking cat-back system for the increasingly popular Mitsibishi Colt CZT.
Mitsubishi's pocket rocket, may not quite have the legs of its bigger brother, the Lancer Evolution, but many tuners have quickly cottoned onto the fact that the sassy super-mini can be turned into quite a performer.
Scorpion's latest system may seem to have impeccable JDM credentials, thanks to its authentic 'tuner' styling and flawless welds, but that exquisite fabrication is all undertaken here in the UK, from aerospace grade T304 stainless steel. Leaving the factory front catalyst in place for full legality and emissions conformity, the new parts are a direct replacement for the OEM exhaust and uses an optional free-flowing centre box for those that want a healthy Evo-esque soundtrack without compromising performance. Gains of between 5 and 10% with significant improvements in mid-range response were noted during Scorpion's testing process, with a note that's sporty and crisp, without droning or grating.
Best of all, like all Scorpion exhaust products, the new CZT system comes with an unlimited mileage lifetime warranty for the original owner, making it a true 'fit and forget' proposition. The price is £319.00 inc VAT and the 2 piece de-cat section £115.00 including VAT. The perfect first modification for any hot Colt.
For more information on this, or any other Scorpion product - or to order your free catalogue, visit scorpion-exhausts.com.