Culinary adventure holiday to Nepal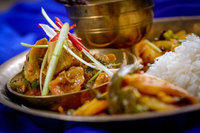 The first bespoke culinary adventure holiday to Nepal from the UK has been launched.
Catering for independent travellers who wish to combine the Nepalese experience with a passion for Asian cooking, the flavour-some 7-day cookery adventure has already proved popular.
Himalayan Footsteps, run by Olly Margry and his Nepali wife, Isha, launched the culinary offering to cater for increasing enquiries from customers. The first departure from the UK is October 2 with two further departures on March 5 and 26, 2014. Prices start at £1048 per person, to include two internal flights, accommodation and food, cookery course, ground transport, sightseeing guide and entrance fees.
"This is the first time any tour operator in the UK is offering bespoke trips from the UK to Nepal to learn cookery. While trekking and safari experiences are also on the menu, the focus of the first seven days is on the cooking and culture of the Nepalese," said Olly Margry.
Chef Freddie Southwell of Wild Seasoning hosts the cookery courses in Nepal, where participants will be able to immerse themselves in hands-on cookery set in the most phenomenal locations - by the side of the soaring Himalayan peaks at Fewa Tal, and on the banks of the shimmering Lake Fewa.
The itinerary starts in Kathmandu and intersperses cookery lessons with experiencing incredible scenery, visits to vibrant local food markets to buy ingredients, moderate walking/trekking, a visit to a spiritual monkey temple and a tiny hilltop village where guests will experience Nepali home-cooking. A guided tour of paddy fields and an explanation of rice farming are also offered.
An internal flight to Pokhara, at the base of the Annapurna mountain range, will be the base for the holiday.
There is also the option to extend the holiday with a further 6-day safari in the National Park.
Himalayan Footsteps specialise in travel to Nepal, India, Bhutan and Tibet. It offers trekking and adventure holidays, meditation retreats, unique honeymoon experiences, as well as opportunities to volunteer and stay with local families.
For further information, visit himalayanfootsteps.com.