Whale watching in Colombia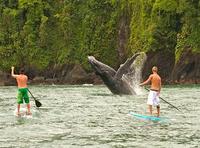 There are many places around the world to spot whales; but when it comes to the most spectacular setting (and where to get closest to them), Colombia is out on its own, and from now until October is the best time to see them.
Chameleon Worldwide is the UK's leading operator to Colombia and has a choice of itineraries designed to provide excellent whale-watching opportunities, including the new, 13-day, Colombia Coast to Coast.
The itinerary includes the country's two most special places; the wild Pacific Coast near Nuqui and the unspoilt Caribbean island of Providencia.
These two, contrasting regions, combined with the dazzling colonial city of Cartagena on the mainland Caribbean Coast, make for a truly memorable trip.
The highlight of the trip for wildlife enthusiasts will be the three nights spent at the extraordinary El Cantil Eco Lodge, situated amidst tropical jungle on the wild Pacific coast of Colombia's Choco region.
The lodge is built on the highest principles of sustainability and offers unforgettable experiences for travellers with a myriad of activity options including jungle walks, visits to thermal pools and a local community, kayaking, paddle boarding, surfing and, of course, whale watching.
The whales often swim very close to the shore, but there are also excursions by boat to seek these undisputed kings of the ocean.
Other highlights of the itinerary include the unspoilt Caribbean island of Providencia, wandering the streets to marvel at the extraordinary colonial architecture of Cartagena and city tours of both Medellin and the capital Bogota.
The holiday can depart any day of the week between now and October and costs from £2295 pp (two sharing a room).
This includes international and domestic flights, all land transportation, 11 nights' accommodation in hotels and the jungle lodge, some meals, activities as detailed, and the services of local guides.
For more information, visit chameleonworldwide.co.uk.