Ford Fiesta 1.0-litre EcoBoost wins Women's World Car of the Year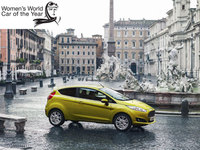 The new Ford Fiesta 1.0-litre EcoBoost has won the overall 2013 Women's World Car of the Year and Women's World Car of the Year Economy Car titles after judges praised its "high-end look and feel" and fuel efficiency. Jurors placed it ahead of shortlisted finalists that included the Audi Allroad, Range Rover and Porsche Boxster S.

The Ford Fiesta was assessed by the panel of 18 female motoring writers which judged the awards on factors including safety, value-for-money, aesthetic appearance, storage space, child-friendliness, ease-of-driving, colour, sex appeal and environmental footprint.

The stylish new Fiesta offers a bold new exterior, an interior optimised for ergonomics and comfort, and Ford MyKey – an industry-first technology that allows parents to encourage safer driving and limit their teenager's exposure to risk at the wheel.

Ford's 1.0-litre EcoBoost engine – International Engine of the Year 2013 and 2012 – delivers 125PS and produces 99g/km CO2 as part of a class-leading line-up of six powertrains that deliver sub-100 g/km CO2 emissions.

The UK is central to Fiesta powertrain development and production – Dunton Technical Centre is home to the award winning 1.0-litre EcoBoost engine and production of high-tech low-CO2 diesel engines takes place at Dagenham. Fiesta has long been a British favourite – as best-selling car it currently outsells its nearest retail competitor more than two to one and has just surpassed four million sales in the UK.

"The new Fiesta has raised the bar to offer a sharper-looking, better-connected car that is even more fuel efficient and fun-to-drive," said Barb Samardzich, vice president Product Development, Ford of Europe. "By tuning into the needs of all our customers we are ensuring this small car with the big history has a very bright future."

New Fiesta was awarded the maximum five-star safety rating by the independent vehicle safety organisation Euro NCAP and offers in-car connectivity system Ford SYNC with Emergency Assistance which directly connects vehicle occupants to local emergency services operators after an accident. Active City Stop helps drivers avoid low speed collisions.

WWCoTY UK judge, Victoria MacMillan Bell, said: "The Fiesta has a real high-end look and feel to it. Pair this with the multi-award-winning 1.0 litre EcoBoost engine which reaches range and performance levels never seen before, and this stylish pocket rocket wins in every category."

"It was clear from the outset that the new Fiesta 1.0-litre EcoBoost had struck a chord with our panel of female motoring experts from around the world," said Women's World Car of the Year chief judge, Sandy Myhre of New Zealand.

The fifth Women's World Car of the Year awards will be presented in London in October.