Every Mitsubishi dealership in the UK to give away a Mirage for a year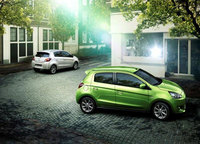 Mitsubishi in the UK has launched a competition today that will see every one of its dealerships give away a brand new Mitsubishi Mirage to a lucky customer for a whole year.

The UK's fastest growing car brand is running the competition throughout the summer to celebrate the success of the fantastic new super-mini.

Sales of the Mirage, which are already at 1,300 since its launch earlier this year, have given the company a great start to 2013.

And interest in the all-new Mirage, which combines great styling, excellent fuel economy and real-life practicality, is set to continue with the launch of this exciting competition.

Anyone who takes the Mirage for a test drive between 1st July and 30th November this year can enter into a prize draw for a chance to win.

Lance Bradley, Managing Director of Mitsubishi Motors in the UK, said: "The new Mirage is the perfect car for its time and thanks to this competition people all over the country will be driving away from a Mitsubishi dealership with a vehicle that will be theirs for a whole year.

"The Mirage is a compact family car which delivers comfort, performance, excellent environmental credentials and superb fuel economy.

"The response to the car has already been fantastic and we're sure this competition will prove popular."

The light and nimble Mirage is Mitsubishi's latest model and it has been engineered from the wheels up to offer a winning blend of chic styling, exceptional comfort and low running costs. It boasts exceptional fuel economy across the range of between 65.7 and 68.9mpg (combined). And with CO2 emission levels across the whole line-up equal to or lower than 100g/km, no Vehicle Excise Duty is payable.