Queenstown voted one of world's friendliest cities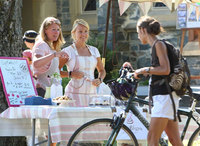 Queenstown, New Zealand Queenstown's stunning scenery, friendly people and diversity of experiences have earned it a top place on Conde Nast Traveler's list of 20 of the world's friendliest cities.
Queenstown came in at No 4 on the list with a readers' rating of 91.8. Conde Nast readers said the "tranquil and peaceful town" boasted an "excellent outdoor vibe" paired with "down-to-earth, nice people."
"The city itself is breathstaking, and it has so many areas that are close by for scenery and adventure sports."
This "all-seasons jewel" is "clean and inviting", delivering "mountains, lakes and vineyards" that are "a feast for the eyes and the palate".
Readers thought Queenstown could get by on its "picturesque looks alone", but that it "goes above and beyond with its hospitality".
The list of the Friendliest and Unfriendliest Cities In The World is a part of an annual Readers' Choice survey where over 46,000 readers voted on everything from cities and islands to airlines and cruises.
Destination Queenstown CEO Graham Budd was delighted with the result and said gaining recognition from actual travellers through such an influential travel source was something to be celebrated.
"It's a great acknowledgement that travellers from around the world feel that Queenstown delivers such a fantastic experience on all fronts.
"We're very passionate about where we live and love sharing it with others. We're lucky enough to be surrounded by stunning lake and alpine environment which makes for a great natural playground and lifestyle. Combined with a melting pot of cultures and friendly, down-to-earth people with strong entrepreneurial spirit, it makes it a really special place to visit."
For more information about Queenstown, visit queenstownNZ.co.nz.