Surging demand for Ford Fiesta ST prompts production boost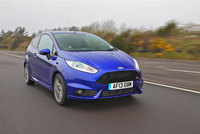 Ford has received double the expected number of orders for the award-winning Ford Fiesta ST in its first six months on sale, with almost one third of all orders placed across Europe coming from the UK.

More than 3,000 Fiesta ST orders have been placed in the UK since it went on sale at the end of March, a sales rate well ahead of the projected 5,000-per-year target. Europe-wide demand is being led by UK customers, making up 56-per cent of all dealer reservations across the continent. As a result, Fiesta ST production will increase by 15 per cent to 60 vehicles per day to keep up with growing demand.

Fiesta ST's unique Pearlescent Molten Orange and Spirit Blue metallic paint colours have been requested on 45 per cent of orders and 56 per cent of buyers have opted for higher specification ST2 models.

"The customer and media reaction to the Fiesta ST has been extraordinary – it's really become an instant classic and orders have been extremely strong," said Roelant de Waard, vice president, Marketing, Sales and Service, Ford of Europe. "We are doing what we can to increase production and try to meet demand."

Since it was launched in the UK, the Ford Fiesta ST has been highly-commended by the British media. Auto Express crowned it "Hot Hatch of the Year 2013", while BBC Top Gear named the Fiesta ST as the winner in its competitive set, declaring: "Everything about the Fiesta ST – the steering, the handling, the responsiveness – is peerless". Top Gear presenter Jeremy Clarkson said: "I honestly haven't driven a car as surprising or as likeable as this for a very long while."

The Ford Fiesta ST offers performance-tuned steering, suspension, brakes and enhanced Torque Vectoring Control; as well as Ford MyKey, SYNC with Emergency Assistance and Recaro sports seats. Powered by a 180bhp, 1.6-litre EcoBoost petrol engine, the Fiesta ST is capable of 0-62mph in 6.9 seconds and has a top speed of 139mph.

A Mountune engine upgrade, available for £599, increases output to a maximum of 212bhp.

The success of the new Fiesta ST follows on the heels of the Focus ST, which went on sale in summer 2012. Equipped with a 247bhp, 2.0-litre EcoBoost engine, the Focus ST was the best-selling hot hatch in Europe during the first six months of 2013, with 4,000 sales.