Germany's gardening extravaganza: Hamburg igs 2013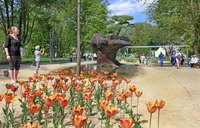 Chelsea may be done and dusted in its centenary year, but Hamburg's igs 2013 is only half way through its six-month run. On a 250-acre island site in the River Elbe, this international garden show opened in April, but does not close until October 13.
Held only every ten years, this show is special. As Edinburgh-based landscape architect Eelco Hooftman points out: "This is not the short flowering horticultural extravaganza of Chelsea, but its Big Brother, with a size similar to that of Kew Gardens."
With 80 gardens reflecting the theme of "Around the World in 80 Gardens", this spectacular festival in northern Germany is not for the faint-hearted. With seven worlds, ranging from the "World of Ports" to the "World of Nature", this is a "must-see" for anyone with green fingers.
What are the highlights so far? Local horticultural pundit John Langley reckons that it is impossible to pick out "the best" display. But he does like the "World of Water", with its Geyser display of rocks and stones. Like a real geyser, there is a sudden spout of water that takes spectators by surprise. He also chooses Dunst und Nebel, Mist and Fog, a mysterious rain forest, with grasses and ferns, alder and cypress.
Langley also recommends the "World of Religions", where Buddhism, Christianity, Hinduism, Islam, and Judaism share one large garden with five individual sections. "Each portrays the history, ideas, and perceptions of each religion," says Langley. "And in the middle, a massive fountain made of natural stone and stainless steel is a reminder that, for all religions, water is a symbol of the source of life."
Equally fascinating is Australia's "Down Under" garden that recreates a whole continent in just one garden: farms and mountains, alpine and rainforest, desert and coast. What also excites Mr. Langley are the wildflowers, with their potential to beautify towns, estates, and roadsides: "More than 400 wild species have been grown here using native seed mixtures: white ox-eye daisies, red campion, poppies, and different types of yellow spurge. These attract butterflies and bees and also provide greenery on the roofs of new living spaces."
At igs 2013, British visitors love the way that the gardens are there to be enjoyed physically and mentally as well as being easy on the eye. Visitors are encouraged to be active, with jogging, swimming, and skating.
And, as the seasons change, there is always something new to admire. Take your time: relax and enjoy a glass of wine, a grilled German sausage or a gourmet meal. John Langley's tip? "Coffee and Franzbrötchen, Hamburg's typical sugary, cinnamony croissant at the 'World of Religions' café."
No wonder savvy visitors are setting aside two full days to explore Hamburg's marvelous igs 2013. Entry: day tickets 21 €; after 5pm, 9 €.
Travel:
It's quick and easy to fly from the United Kingdom to Hamburg Airport. Lufthansa, British Airways, easyJet, and bmi offer daily flights from airports in and near London, Manchester, Birmingham, Edinburgh, and Bristol.
Packages:
Hamburg Tourismus (hamburg-tourism.de/en) offers a 2-night stay including b&b, igs ticket, and Hamburg CARD from €219 (hamburg-travel.com/search-booking/packages).
Hamburg CARD - Discover more, pay less: hamburg-travel.com/hamburg-card
Useful links:
igs 2013: igs-hamburg.de/en/
Hamburg Tourism: hamburg-tourism.de/en