E.T voted the UK's favourite childhood film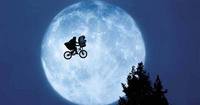 Marking the launch of Samsung Smart TV's revolutionary S Recommendation technology, which helps you discover more of the TV you love, new research reveals the UK's favourite film and TV habits as Elliot and E.T's bittersweet alien adventure is voted the nation's favourite childhood film of all time.
To mark the unanimous love of this Hollywood epic, Samsung is putting on a free outdoor screening of the film, in partnership with Rooftop Film Club on September 10th at the Queen of Hoxton in London. To win a ticket to the screening of this kids classic visit Samsung's Facebook app: facebook.com/SamsungUK/app_430973897009895
This gala screening will form part of Samsung's series of summer screenings which are running across the summer in partnership with Rooftop Film Club, The Nomad Cinema and The Luna Cinema.
Top five favourite childhood movies:
1. E.T
2. Bambi
3. The Goonies
4. The Lion King
5. Toy Story
Back to the 1980s
And the decade that produced E.T was also voted the UK's favourite film decade. It might be the time fashion forgot; but it certainly made an impact on our film choices. Brits voted the eighties the decade that gave us the best films, with blockbusters such as The Empire Strikes Back and Full Metal Jacket and cult classics such as The Breakfast Club. The eighties were followed in terms of popularity by the nineties with movies such as Thelma and Louise and Fight Club; the sixties with Breakfast at Tiffany's and From Russia with Love and the seventies with movies such as Last Tango in Paris and The Godfather.
Our choice of favourite film director also has strong links to the eighties with just under a third (32%) choosing Steven Spielberg as their favourite director of all time. Not only did he direct our favourite childhood film ET during the eighties but it was also the decade that produced some of his most iconic works including Empire of the Sun, Indiana Jones and the Temple of Doom and Raiders of the Lost Ark.
Films to watch again and again
When asked which film they would most like to watch again, the nation voted for the 1994 hit The Shawshank Redemption.
Top 5 Films people would most like to see again:
1. The Shawshank Redemption
2. Harry Potter (any)
3. Star Wars (any)
4. The Lion King
5. The Godfather (any)
Frankly My dear… I don't give a damn, but Brits do
When it comes to favourite film lines, our hearts lie with the classics. The most popular being Clark Gable's last words in the 1939 hit Gone with the Wind, "Frankly my dear, I don't give a damn", with one in ten people voting this their favourite film line of all time. This was followed a close second by, "Go Ahead: Make My Day" from Dirty Harry, "Nobody Puts Baby in a Corner" from Dirty Dancing in third place, 'The Terminator's "I'll be Back" in fourth place and "Life is Like a Box of Chocolates" from Forrest Gump in fifth.
Adventure Brits
Action Adventure was the film genre voted the most popular, beating romance and sci-fi.
Top Five Genres of Movie
1. Action & Adventure
2. Comedy
3. Science Fiction
4. Romance
5. Horror
R&R
Escapism and relaxation are the main reasons we watch films with almost three quarters (72%) of people stating that they watched films to relax and help them completely forget our everyday life.
Finding the films you love
With so much content available, it's clear people sometimes struggle to find the films they love. The research shows we watch on average 2-4 films a month, yet almost a third of us (30%) think we would watch more if what we liked was easier to find and over a third (36%) admitted they often choose what to watch based on trial and error. Samsung's S Recommendation technology chooses programmes based on users viewing habits means selecting things to watch by trial and error will become a thing of the past.
Commenting on these findings Guy Kinnell, Head of TV and AV at Samsung Electronics UK & Ireland stated: "This research shows that as a nation we are hugely passionate about what we watch and the films we love. However it is clear that we all sometimes struggle to find the kind of films that suit our interests and this is where we hope that our revolutionary Smart TV technology, S Recommendation, will help people re-discover the content and films they love, cutting through the huge amount of choice and recommending programmes based on their viewing habits."
To find out more about Samsung's summer screenings and the nation's film habits visit: samsung.com/uk/popupcinema/ and follow the conversation on Twitter with #Samsungscreenings.