Ol Pejeta wildlife conservancy receives Certificate of Excellence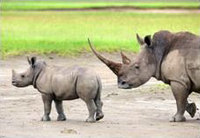 Kenya's Ol Pejeta wildlife conservancy in Laikipia has been rated the world's best performing wildlife sanctuary by visitors from across the globe on TripAdvisor.
As the largest Black Rhino sanctuary in Kenya, Ol Pejeta received the Trip Advisor Certificate of Excellence Award for the second year running. The accolade honours excellence in hospitality and is given only to establishments which consistently achieve outstanding traveller reviews on the world's largest travel review website, TripAdvisor.
Commenting on the award Mr. Richard Vigne, CEO Ol Pejeta Conservancy, said the award was as a result of their efforts to offer customers an unforgettable wildlife experience, he said, 'We strive to offer our clients a memorable experience and this accolade is evidence that our hard work is translating into positive reviews on TripAdvisor'.
Congratulating the conservancy Mr. Muriithi Ndegwa, Managing Director Kenya Tourism Board (KTB) noted the achievement has positioned Ol Pejeta conservancy among the key ambassadors for Kenya thereby raising awareness of the country as a first class tourist destination. 'This award positions Ol Pejeta as an outstanding attraction on the world map and encourages other stakeholders in the tourism industry to deliver an unforgettable service to fulfil visitors' travelling expectations', he said.
The Certificate of Excellence Award aims to highlight top-performing establishments around the world through constant positive feedback from their customers.
To qualify for a Certificate of Excellence, an organization must maintain an overall rating of four or higher out of a possible five as reviewed by travellers on TripAdvisor, and must have been listed on TripAdvisor for at least 12 months with an outstanding volume of reviews within the same period.
The Ol Pejeta conservancy with its open plains, wooded grassland, Acacia forests and evergreen thicket extending over 350 square kilometres recently sourced funds to launch aircrafts for use in monitoring the movement of wild animals, particularly threatened species such as the Rhino and Elephant. The conservancy is also home to other wildlife including non-indigenous chimpanzees, leopards, buffaloes and lions and remains at the forefront of wildlife protection and conservation.
For more information on Kenya, visit magicalkenya.com