Al fresco dining for the great British summer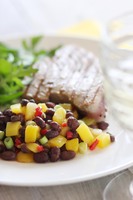 The great British summer season is in full swing and the longer, lighter days we treasure have returned for another year. There has never been a better time to move the dining room outdoors for a relaxed al fresco banquet in the evening sun.
A quick, easy and light starter, which means you can spend less time in the kitchen and more time outside, is a Spanish Style Tortilla. Only taking five minutes to prepare and 15 minutes to cook, it contains a myriad of vegetables.
It's often the hassle of cooking dishes in a hot kitchen, which put people off making homemade meals during summer, but why not dust off the BBQ, which provides you with a healthy way to enjoy food. Try a Tuna with Black Bean & Mango Salsa recipe, which allows you to grill the tuna steaks on the BBQ. Plus, black beans are a great source of fibre, which aids with digestion and canned mangoes, in their own juice, counts towards your 5-A-DAY.
Indian Spiced Potatoes are a great accompaniment to any meal. As well as a variety of herbs and spices, this dish features canned spinach, with plenty of iron to help with energy utilisation.
For those with a sweet tooth, there's only one dessert which will cool you down in summer – ice cream. A spicy cinnamon version will leave you wanting more, thanks to its secret ingredient – canned custard. Not only does this add to its creaminess, custard is a low fat source of calcium, great for strong bones.
All of the ingredients used in Canned Food UK recipes are easy to find in supermarkets and have guaranteed health benefits. Canned produce is packed with locked in nutrients and is an excellent way of bringing extra natural, preservative free food into your kitchen.
For more information and recipe ideas, head to cannedfood.co.uk, where you will find tasty dishes designed by James Martin, celebrity chef, along with step-by-step videos and exclusive tips to make everything, from a family picnic to a large scale celebration of summer, go down a treat.
Spanish Style Tortilla
Serves: 4
Preparation time: 5 minutes
Cooking time: 15 minutes
Ingredients
300g can potatoes, drained and sliced
200g can peas, drained
1 small onion, finely sliced
1 small red pepper, finely diced
6 medium free-range eggs
75g cheddar cheese, grated
15g butter
1 Tbsp olive oil
Seasoning
Green salad to serve
Method
Heat butter and oil in a medium sized frying pan
Add the onion and fry for three minutes until just beginning to soften, add the pepper and potato and continue frying for a further two minutes.
Add the peas.
Preheat the grill.
Beat together the eggs and season well. Pour over the potato mixture, sprinkle with cheese and cook on a hob, a low to moderate heat, for four or five minutes until the mixture begins to set and the base is golden.
Place the frying pan under the grill and continue cooking until the mixture is golden and just firm in the centre.
Cut into wedges and serve with a green salad.
Hints and tips
You can find canned garden peas and potatoes that contain no added sugar or salt, and are only canned in water.
Nutrition Information (per serving)
Calories: 362
Protein: 20.3g
Carbs: 17.8g
Sugars: 4.8g
Fat: 23.8g
Sat Fat: 9.5g
Fibre: 3.3g
Sodium: 0.6g
Tuna with Black Bean & Mango Salsa
Serves: 4
Preparation time: 5 minutes
Cooking time: 15 minutes
Ingredients
4 tuna steaks
4 Tbsp light soy sauce
1 Tbsp olive oil
Seasoning
For the salsa:
400g can black beans, drained
400g can mango slices, drained and finely chopped
2 chillies, chopped
Juice of 1 lime
6 spring onions, chopped
Method
Marinate the tuna steaks in the soy sauce whilst preparing the salsa.
For the salsa, combine the black beans, chopped mango, chillies, lime juice and spring onions.
Heat a griddle plate or BBQ.
Dry the tuna on kitchen paper, rub with olive oil and season well.
Place the tuna on a griddle or barbecue and cook for about two minutes each side – this will depend on the thickness of the tuna, but avoid overcooking.
Serve tuna immediately with mango salsa.
Hints and Tips
Using canned foods minimises mess – they are already prepared in the can and don't create leftover food waste.
Nutrition Information (Per Serving)
Calories: 521
Protein: 26.3g
Carbs: 29.6g
Sugars: 16.6g
Fat: 8.0g
Sat Fat: 1.6g
Fibre: 6.9g
Sodium: 1.1g
Indian Spiced Potatoes
Serves: 4
Preparation time: 10 minutes
Cooking time: 15 minutes
Ingredients
For the cucumber raita:
¼ cucumber
1-2 Tbsp chopped mint
170g natural Greek yogurt
Seasoning
For the potatoes:
538g can potatoes, drained
380g can spinach, drained well
1 small onion finely sliced
25g butter
1 Tbsp oil
1 clove garlic, finely chopped
2 tsp cumin seeds
1-2 Tbsp curry paste
Method
Peel the cucumber, cut in half, remove seeds and finely dice.
Make the raita by mixing together the cucumber, mint, and yogurt. Season to taste and chill until required.
Heat the butter and oil in a deep sided frying pan or wok.
Add the onion and fry until soft, add the garlic and cumin seeds and continue frying for one minute.
Add potatoes and stir-fry for five minutes.
Add curry paste; stir well to coat the potatoes.
Add spinach, heat through and serve immediately with raita.
Nutrition Information (Per Serving)
Calories: 251
Protein: 6.4g
Carbs: 22.6g
Sugars: 5.0g
Fat: 15.9g
Sat Fat: 6.7g
Fibre: 2.9g
Sodium: 0.4g
Cinnamon ice cream
Serves 4-6
Ingredients
3 heaped teaspoons ground cinnamon
400g can dairy custard
283g can cream
2-3 tablespoons maple syrup (or to taste)
Zest of 2 oranges
Method
1. In a small frying pan, gently toast the cinnamon for 30 seconds, to enrich the flavour of the spice. Remove from the heat and transfer to a large bowl
2. Add the custard, cream, maple syrup and orange zest to the cinnamon and mix well
3. Transfer the ice cream to a freezer proof container to freeze for approximately 3 hours until solid, but soft enough to give way slightly if pressed with your finger.
4. Remove the ice cream from the freezer and transfer to a food processor. Blend the ice cream briefly until just smooth and return to the freezer for 3 hours or until frozen.
Nutritional value per serving
Calories: 231
Protein: 3.0 g
Carbohydrates: 21.6 g
Fat: 13.3 g
Saturated fat: 7.0 g
Fibre: 0.1 g