Living Stones: A theatrical trip to the Holy Land with Bible re-enactments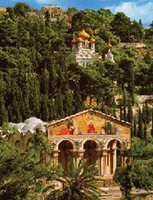 Specialist holiday company Lightline Pilgrimages, has teamed up with the Riding Lights Theatre Company, to provide a chance to visit the Holy Land of Israel, on a 9-night trip entitled Living Stones, in the company of professional actors who will re-enact some of the New Testament's most famous stories during visits to places that figured in the life of Jesus.
The group will visit Galilee and the principal sites of Jesus' ministry around Capernaum and his home town of Nazareth and his place of birth, Bethlehem.
Whilst in Bethlehem there will be a chance to see some of the inspiring charitable projects and to meet Christians living in the area today.
In Jerusalem, the group will trace the steps of Jesus along the Via Dolorosa, to the places that mark his death and Resurrection, with a chance to worship alongside the local Palestinian Anglican community at St George's Cathedral in East Jerusalem.
The itinerary begins with a visit to Mount Tabor, long believed to be the place of the transfiguration, before continuing on to Nazareth, stopping in Cana, where Jesus' first sign took place, when he turned water into wine at a wedding.
Other highlights will include a visit to the vast Basilica that commemorates the encounter between the angel Gabriel and the Virgin Mary and the sites of the Feeding of the Five Thousand and the preaching of the Sermon on the Mount.
There will also be an opportunity to see the excavations of Capernaum, where Jesus lived with his disciples and a chance to sail on the Sea of Galilee in a boat modelled on a first century fishing boat.
Heading south, the group will discover the city of Nablus, in which is found Jacob's Well, before driving to Jerusalem and Bethlehem, stopping at Taybeh, the last all-Christian community in the West Bank.
The itinerary concludes with a visit to Ein Karem (believed to be the birthplace of John the Baptist), Bethany, the River Jordan, Jericho and the Mount of Olives.
Departing 15 October, the holiday costs from £1995 pp (two sharing) which includes flights, all transportation, 9-nights' full board accommodation in three hotels and the services of a group leader and guide.
For more information, visit lightline.org.uk.