Experience the Northern Lights in the Yukon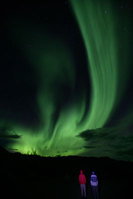 From Autumn to Spring, when darkness comes to Yukon skies, the Northern Lights come out. First you might see a hint of neon colour in the starry sky, then a jagged burst of green, and soon you're transfixed by an ethereal display of shimmering aurora borealis. Depending on auroral activity and cloud conditions, you could spend hours watching with rapt attention as the magical show unfolds overhead. Whether you're fascinated by the science or thrilled by the opportunity to photograph the aurora, the sight of dancing lights in the night sky nourishes all souls.
The best time to visit the Yukon for the dancing northern lights is between September and April. While tour operators can't guarantee you'll see the aurora borealis, they will do everything they can to make your visit here memorable. They can direct you to the best viewing spots, share aurora lore and culture, and make sure you stay warm.
Aurora forecasting technology also helps increase the odds and Tourism Yukon have developed a tool at: travelyukon.com/Plan/Travel-Info/Aurora-Forecast to help predict when you can see this amazing phenomenon. With scientific data collected from the Space Weather Predicition Center, we're able to forecast the aurora every 15 minutes.
Just have a few days?
Spend your days visiting museums, sightseeing and sampling local cuisine in Whitehorse, and spend your nights watching for the Northern Lights.
Day 1 - Bright Lights, Northern City
Settle in to your hotel, cabin or B&B, then soak in Whitehorse's bustling Main Street atmosphere. Enjoy dinner at one of our fine downtown restaurants. You might want to squeeze in a nap because this will be your first night watching for the northern lights. Join a scheduled aurora tour or explore our dark skies on your own.
Day 2 - Parade of Colour
Southern Yukon is awash in fall colour, so take a scenic day trip south to Carcross or west to Haines Junction. Try some gentle hiking, watch for wildlife and explore local visitor centres and museums. Get ready for another night of northern lights viewing
Day 3 - Discover Yukon Arts and Culture
Late nights are part of the aurora experience, so enjoy a slow start in a café. Wander through Whitehorse galleries, visit the Kwanlin Dün Cultural Centre, and keep an eye out for a special piece of Yukon art to take home. Tonight you might even catch another glimpse of the aurora.
Did you know?
The Northern Lights, or Aurora Borealis, are caused by huge explosions on the surface of the sun that send out streams of charged particles that interact with the Earth's upper atmosphere. These reactions occur 60 to 80 miles above the Earth's surface, so it doesn't make any sense that they can be heard. Still, many people report hearing a crackling or rustling noise when they see the lights. It could be that the sound is created near the ground by electrical phenomena associated with the aurora. It could also be that watchers are being affected by psychological or physical processes that we don't yet understand. Of course, seeing the aurora on a dark, silent night is so exciting it might just be the sound of blood rushing through veins that's being mistaken for the sound of light!
Background on Yukon
Situated in the upper Northwest corner of Canada, next to Alaska, the Yukon is Canada's most accessible northern destination. Home to Canada's highest mountain (Mount Logan) and one of the largest non-polar icefields located in Kluane National Park - a UNESCO World Heritage site - breathtaking doesn't describe the vastness, or the beauty!
The Yukon is one of North America's major wilderness attractions; close to 80 percent remains pristine wilderness with 5,000-metre peaks, forested valleys, unspoiled waters and untamed wildlife. Roughly the size of France at 483,000 square kilometers, The Yukon is home to more than 160,000 caribou, 70,000 moose, 22,000 mountain sheep, 7,000 grizzly bears, 10,000 black bears and 250 species of birds... and only 34,000 humans!
Scott Dunn offer packages to Takhini River Lodge which is perfect for Northern Lights viewing. For more information visit scottdunn.com.
Experience Holidays offer a 'Yukon in Winter' package to view the Northern Lights. For more information visit experienceholidays.co.uk.