Lisbon voted best city destination in Europe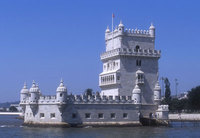 Lisbon, the cosmopolitan and fascinating capital of Portugal, has been named Europe's Leading City Break Destination 2013. The city triumphed at the prestigious World Travel Awards which are considered to be the 'Oscars' of tourism.
The esteemed World Travel Award was presented to Turismo de Lisboa at a gala in Turkey on 31st August 2013. The award victory was witnessed by some of the most prominent figures in the global travel industry, including key decision makers, chief figure heads and the leading trade and consumer media.
This latest win marks the third time Lisbon has been recognised as Europe's Leading City Break Destination in the Awards over the last five years. The Portuguese capital is famed for its year-round pleasant climate, rich culture and beaches located just 20 minutes from the city centre, plus a price-quality ratio unrivalled anywhere else in Europe. In fact, Lisbon was named the most affordable city break destination in the Eurozone earlier this year, according to the Post Office's 2013 City Costs Barometer.
"We are thrilled to see Lisbon taking its rightful place as the top city break destination in Europe," comments Paula Oliveira, executive director at Turismo de Lisboa. "The outcome of these Awards marks the achievement and commitment of all Turismo de Lisboa staff and its members to deliver the highest tourism standards at all times, in order to provide a truly memorable city break for new and returning visitors."
About Lisbon
Portugal's national capital, Lisbon, boasts one of the longest histories, warmest climates and bustling nightlife of any major European city alongside its dramatic location sprawled along seven hills overlooking the river Tagus and Portugal's west coast. Famed for its year round sunshine and beauty, Lisbon's grand architecture dazzles and its old-world charm mingles with chic streets, galleries, lively nightlife and a centre which gives way to sandy beaches just minutes away. It also one of the most affordable capitals in Europe, perfect for a captivating city break or short haul escape.
For more information, go to visitlisboa.com.