Ford S-MAX and Vignale concepts headline on Frankfurt show stand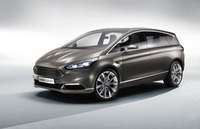 Ford will reveal at the Frankfurt Show its vision for a future new Ford S-MAX Concept sport activity vehicle and the all-new Ford Mondeo Vignale Concept – a preview of the exclusive Vignale product and ownership experience that will launch in Europe in 2015.

The new S-MAX Concept builds upon the current S-MAX's style-without-compromise ethos with sleek design, premium craftsmanship, smart technologies and a more flexible interior. It also features connectivity and well-being technology including Ford SYNC with AppLink, which enables drivers to voice-activate apps from behind the wheel, and the Ford Heart Rate Monitoring Seat, which records the driver's heart rate.

The all-new Mondeo Vignale Concept provides a first glimpse of Ford's vision for Vignale and offers unique design touches, high quality craftsmanship, exclusive specification and advanced technologies.

The Mondeo Vignale Concept, which includes 20-inch alloy wheels with in-depth chrome detailing, a unique front bumper and grille, and an exclusive "Nocciola" paint colour, is part of a rollout that will see Ford deliver one of the most complete product expansions in the history of Ford in Europe.

"Despite the weak economic situation we are transforming our business in Europe by investing heavily to accelerate the introduction of new products and technologies," said Stephen Odell, Ford's president of Europe, Middle East and Africa.

"Almost a year ago we promised to launch the most aggressive new product expansion in Ford of Europe's history," Odell added. "We are on track to deliver one of the freshest, most exciting line-ups in the industry and one that positions us for growth as the economic situation begins to recover."

S-MAX Concept

The new Ford S?MAX Concept reflects the latest Ford global design language with a high mounted grille and swept-back organic LED headlamps; the front bonnet sweeps seamlessly into the sharply raked front screen, which in turn flows into the roof to create a unique glass roof graphic.

The versatile interior offers anything from four to seven-seat configurations and places the focus firmly on the driver. The high-set instrument panel, door panels and innovative interior roof design maximise its spaciousness.

The S-MAX Concept offers advanced safety and convenience technologies including Intelligent Protection System with Pre-Collision Assist, which identifies pedestrians and automatically applies the brakes if a collision is imminent. Dual-View Display allows the driver to receive important information while from the same centre console screen the front passenger can enjoy a movie.

"The launch of this all-new concept takes the Ford S-MAX to a new level of excellence," said Barb Samardzich, European Product Development vice president. "We want our S-MAX customers to live a life without compromise, and have taken a no-compromise approach to every aspect of its design and engineering."

Ford Vignale

Presented in an exclusive and sophisticated four-door saloon body style, and also as a wagon, the all-new Mondeo Vignale Concept combines traditional coach-building with contemporary design and material trends. Smart technologies include front and rear Park Assist with Rear View Camera to make parking easier. The interior features leather armrests for door interiors, and exclusive seating with "Vignale" detailing and premium soft-touch leather that extends to the steering wheel, instrument panel, centre console, door top-rolls and centre armrest.

"Our vision for the Vignale product range is to deliver vehicles with true upmarket credentials," said Martin Smith, executive design director, Ford of Europe. "We wanted to create something unique for Ford, with world-class quality and craftsmanship."

Ford's vision for the Vignale experience includes time-saving services such as collection and delivery for vehicle servicing, free lifetime carwashes and invitations to exclusive events.

"Ford Vignale premium services will meet the needs of the customer for whom time is the ultimate luxury – and they would be made to feel special from the moment they walk in the door," said Gaetano Thorel, European Marketing vice president.

Power of choice

The newest addition to the Ford Focus 1.0-litre EcoBoost range will be the first non-hybrid petrol family car in Europe to offer 99 g/km CO2 emissions when it goes on sale in Europe in 2014.Equipped with a specially calibrated 100 PS version of Ford's award-winning engine – named International Engine of The Year 2013 and 2012 – the new Focus 1.0-litre EcoBoost features Ford ECOnetic Technology, including ultra-low-rolling-resistance tyres, unique aerodynamics under the car, and revised gearing.

Ford will also launch the Fiesta 1.0-litre EcoBoost Automatic, the first Ford to offer an automatic transmission with the award-winning engine.

The electrified vehicle range will be extended to include the Mondeo Hybrid next year following this month's launch of the Focus Electric.

The new Ford EcoSport will also be available with the 1.0-litre EcoBoost engine and a limited edition version is now available to order exclusively via Facebook. It will feature a special equipment package that includes an exclusive Ford SYNC AppLink package, 17inch alloy wheels and leather trim.

Ford's 1.6-litre EcoBoost production car engine is the driving force behind the new-for-2013 Formula Ford single-seater race car, on show at Frankfurt. The high-efficiency turbocharged unit is equipped with remapped electronics in race format to deliver a power output of more than 200PS.

Tourneo Courier

The production version of the Tourneo Courier is revealed for the first time in Frankfurt. Offering class-leading space, practicality, fuel economy and safety features, the five-seat Tourneo Courier is the most compact member of the Tourneo family and expands Ford's people-mover range into the small-car segment.

Based on Ford's latest global small-car platform, the Tourneo Courier offers ample space for five people and their luggage, with the agile handling of a compact car. The vehicle's twin rear sliding doors provide best-in-class access, while 60/40 split folding rear seats offer outstanding flexibility.

The Courier joins the five-seat Tourneo Connect which will also be on display in Frankfurt, the seven-seat Grand Tourneo Connect and the Tourneo Custom, and will go on sale in Europe by mid-2014.