Top winter holiday adventures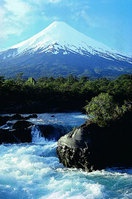 The UK's summer is drawing to a close, but that does not have to be an end to long summer days and exciting outdoor adventure. Specialist tour operator Journey Latin America has handpicked their top five winter adventure holidays. From trekking at the end of the world to 4x4 road trips in deep Patagonia and kayaking in the Antarctic there is a whole host activities to enjoy.
The iconic trek
The famous W trek in Chile's Torres del Paine National Park is a spectacular 5 day trek taking in the French Valle, Lake Grey and the base of the towers that give the park its name. This rewarding trip explores the best of Patagonian
scenery: towering ice-jacketed mountain peaks, glaciers and gem-clear lagoons.
Experience it: Journey Latin America's Walking Holiday in Chile includes the W-trek and cost from £4077 pp including flights.
4x4 Adventure
There is no better way to explore Patagonia than in your own car. The freedom and flexibility lends itself perfectly the off the beaten track dirt road and jaw-dropping scenery. This holiday explores the little visited Aisen region before continuing to the Famous Torres del Paine National Park.
Experience it: Journey Latin America's Self-Drive in Deep Patagonia costs from £4346 per person Including flights.
An Antarctic Adventure
A trip to Antarctica is a mind blowing adventure in itself. However, this exciting trip also offers the opportunity to go camping, hiking, cross-country skiing, snow-shoeing, mountaineering, kayaking, swimming and scuba diving. This trip gives a truly one in a life time experience for lovers of outdoor sports.
Experience it: Journey Latin America's Active Antarctica costs from £5022 per person.
Unmapped trekking
Trekking at the end of the world in Argentina's Tierra del Fuego is the ultimate wildernesstrekking. Areas of the trek are unmapped and the route is only known by local specialist guides. This exhilarating adventure explores the stunning Fitzroy mountains range in El Chalten before continuing south to Tierra del Fuego.
Experience it: Journey Latin America's Patagonia on Foot includes the End of the World trek and costs from £3590 per person.
Luxury Adventure
An Adventure holiday doesn't always mean you have to forgo luxury. This active holiday stays in Chile's most luxurious accommodation, so you can go out riding all day and return to the hotel for a massage and champagne in the hot tub.
Experience it: Journey Latin America's Luxury Riding holiday in the Atacama Desert and Patagonia costs from £5768 per person.

David Nichols, Product managers says: 'South America is the ultimate playground for those who enjoy the outdoors. Patagonia, particularly during the summer month when the daylight hours are longer, allows for hours of glorious trekking surrounded by some of the most spectacular scenery on earth.
For more information, visit journeylatinamerica.co.uk.