Late summer break to the Greek Islands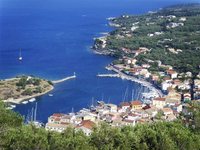 The schools have gone back, prices have dropped but the sun is still shining in Greece.
As a consequence, September and October are two of the best months of the year to visit the Ionian Islands and UK specialist Ionian Villas has some great deals including the following:
Galazio Sunset Apartment on Paxos (sleeps two people) is located about 1km inland from the coastal town of Gaios and near the old village of Veliantatika, in a peaceful location above the coast, enveloped in a landscape of olive groves set on hillside terraces, peppered with tall cypress trees and majestic umbrella pines. The apartments share two swimming pools and there are shops and tavernas a 20- minute walk away. A week from 30 September costs £400 and includes free car hire.
Barba Yianni on the island of Paxos is said by Ionian Villas to have the best views of any of the 150 properties within its entire portfolio. The two-bedroomed property is located on a hillside terrace high above the port of Gaios, which is 2 kilometres away. The swimming pool terrace looks down over a hillside of olive trees to the terracotta rooftops of Gaios, perfect to while away the hours sipping drinks whilst watching the arrival and departure of yachts and fishing boats. A week's rental in October costs £650 and includes a generous welcome hamper (worth £50).
The five Sunset Cottages (each sleeping two people) on the island of Ithaca are perched up high on the west coast, two kilometres south of Stavros village and a five minute drive to Polis Bay beach. The views from each cottage and the pool terraces are over silver olive trees and tall cypress trees and across a narrow strip of Ionian Sea to Kefalonia. Three cottages and the pool are on an upper terrace and two cottages on a lower terrace and each is slightly set back from its neighbour for privacy and with a sea-facing terrace. A week's rental in late September is £400.
Flights to Corfu (for Galazio and Barba Yianni) are approximately £150 pp and hydrofoil transfers £30 pp each way.
Air fares to Kefalonia (for Sunset Cottages) also around £150 pp with hydrofoil transfers £80 pp each way.

To book or to view the complete range in the Ionian Villas portfolio visit ionian-villas.co.uk.