The importance of canned food for Harvest Festival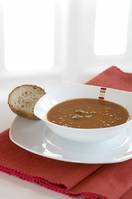 Harvest Festival is the ideal time of year to think about the food we consume as individuals, families and the wider community. Traditionally, it is also the time to consider donating food to charitable organisations that distribute it to those in need.
Canned Food is an important part of Harvest Festival, as a large proportion of donations include canned food. That is why it's essential to highlight what a great option canned food is. Not only is it an affordable choice for people on a budget, it is also nutritional because the food is locked in the can during the canning process which means it retains all its goodness.
The great thing about canned food is that it doesn't restrict people with less money to spend, as there are so many healthy and delicious dishes out there. For example, our Magic Bean Soup is a lovely and warming option, as the weather turns cold. It includes canned tomatoes, which are an excellent source of cancer fighting antioxidant lycopene and counts one of your 5-A-DAY. Add a can of borlotti beans, which contains fibre and helps promote good digestion, as well as lowering blood cholesterol levels, and you've got yourself a nutritious meal.
For mains, why not try a dish that will leave you feeling full and content. Our Fish Pie contains plenty of fresh fish, but demonstrates how canned food can help make a complicated dish easy and convenient. For example, by adding a can of condensed mushroom soup, you instantly have a delicious sauce. Plus, by adding canned vegetables, such as sweet corn and peas, it means you can cut down on the preparation time.
Finally, dessert need not be an added luxury to mealtimes, especially when you use Canned Food UK recipes. Our Rhubarb Fool includes only four ingredients – two of which are optional. By using canned rhubarb and canned custard, which is a low fat source of calcium, great for strong bones, you have a cost effective dessert which will please those with a sweet tooth amongst the family.
All of the ingredients used in Canned Food UK recipes are easy to find in supermarkets and have guaranteed health benefits. Canned produce is packed with locked in nutrients and is an excellent way of bringing extra natural, preservative free food into your kitchen.
For more information and recipe ideas, head to cannedfood.co.uk, where you will find tasty dishes designed by James Martin, celebrity chef, along with step-by-step videos and exclusive tips.
Recipes:
Magic Bean Soup
Serves 4.
Ingredients:
1 crushed clove of garlic
1 finely chopped red onion
Olive oil
400g can tomatoes
410g can borlotti beans, drained and rinsed
300ml water
wholemeal bread

Method:
1. Gently fry 1 crushed clove of garlic with 1 finely chopped red onion in a little olive oil until soft, but not browned.
2. Put the 400g can tomatoes and juice and the onion and garlic in a blender with about half the can of the rinsed borlotti beans.
3. Whizz until almost smooth and return to the pan.
4. Add the water and the remaining borlotti beans and heat until boiling.
5. Serve with warm wholemeal bread
Nutritional value per serving
Calories: 135
Protein: 6.6 g
Carbohydrates: 17.8 g
Fat: 4.2 g
Fibre: 4.7 g
Fish Pie
Serves 4.
Ingredients:
250g cod or haddock fillet, skinned
150g smoked haddock fillet, skinned
200ml milk
295g can condensed mushroom soup
198g can sweetcorn, drained
300g can peas, drained
4 tbsp freshly chopped parsley
Freshly ground nutmeg (optional)
Juice of ½ lemon
Freshly ground black pepper
820g can potatoes, drained and cut into quarters
125g cheddar cheese, grated
Method:
1. Preheat the oven to 190C/375F/Gas Mark 5.
2. Lay the fish in a large frying pan and pour over the milk. Cover and bring slowly to the boil. Simmer gently for 5-7 minutes or until the fish flakes apart. Remove the fish and place into one large ovenproof dish or four individual dishes.
3. Add the soup to the milk and heat gently until thoroughly combined.
4. Add the sweetcorn, peas, parsley, nutmeg (if using), the lemon juice and pepper, and pour over the fish.
5. Place the potatoes on top of the fish and scatter with cheese.
6. Bake for 25 minutes or until the potatoes are beginning to turn golden and the fish filling is hot and bubbling.
Nutritional value per serving
Calories: 417
Carbohydrate: 33.8 g
Protein: 33.5 g
Fat: 17.4 g
Saturated fat: 8.2 g
Fibre: 2.8 g
Rhubarb Fool
Serves 4
Preparation Time: 10 minutes
Chill for 15 minutes
Ingredients:
560g can rhubarb, drained
425g can custard
1 tsp sieved icing sugar (optional)
Shortbread biscuits
Method:
Mash the rhubarb with a fork.
Stir in the custard.
Sweeten to taste with the icing sugar (optional).
Pour into 4 dishes.
Sprinkle each rhubarb fool with a teaspoon of crushed shortbread biscuit.
Chill for 15 minutes then serve.
Nutrition Information (Per Serving):
Calories: 160
Protein: 3.7g
Carbs: 29.6g
Sugars: 24.6g
Fat: 3.8g
Sat Fat: 0.5g
Fibre: 1.3g
Sodium: 0.1g