If you want to get ahead at work, dress like your colleagues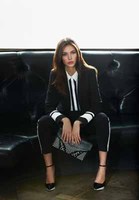 The secret of getting ahead in the workplace is simple – dress like your colleagues, new research reveals.
Debenhams has found that climbing the corporate ladder isn't just about putting in the hours and hitting targets. Staff need to dress to impress – and more specifically, like their boss or co-workers.
This has led to a new office trend of "work twins" – the key look for the new season.
The retailer surveyed 2,000 people on work place dressing and six in ten (61%) said that dressing like their colleagues created a better team spirit and a higher level of productivity.
Half of those (54%) said that they were heavily influenced by what their managers and colleagues wear to work, while a third (33%) said their team deliberately buy the same clothes and plan to wear them on the same day.
32% of people surveyed found themselves accidently dressing like their colleagues on average 2-3 days per week – a subconscious action that is a reaction to spending so much time together.
'Checked shirt Fridays' and 'Blue Mondays" were popular with men, while female workers have become fans of 'Monochrome Mondays' and 'Floral Fridays'.
The majority of managers surveyed (68%) also said that staff with a similar style to them gained brownie points and were more on their radar.
Spokesperson for Debenhams Ed Watson says: "The trend for workplace copycats has been on the increase and it is now a running joke in most offices when colleagues turn up in similar attire."
"The standard is usually set by the boss on the style expected for work and then the rest of the workplace follows suit."
As many will be returning back to work this week after the summer break, how to dress will be hot on the agenda, especially after a hot summer of casual work dressing.
Debenhams has seen workwear sales spike by 53% in the last week as people prepare to return to the office.
Top trends seen across the work place include; monochrome, nautical and even animal print depending on place of work.
Designer at Debenhams Be de Lisi says; "For a key trend this season inject vivid reds for a strong look – they are the perfect way to brighten any work wardrobe."
Psychologist from the University of Hertfordshire Dr Karen Pine says; "Humans tend to be drawn to people who are like them, since difference can be perceived as threatening. People feel safer when they dress alike."
"They are signalling their need to belong to the group. A team that chooses the same style of dress for work is indicating their cohesiveness. This may reflect a wider collaborative culture within the organisation or a high need for conformity."
"Bosses often appoint and promote people who are like them. Boards are renowned for electing members that resemble existing ones. Clothes are a shorthand for who we are and what we are like, but research shows they can also change the wearer's personality."
"So dressing like the boss may bring out a person's leadership behaviours. It could even subconsciously influence others to see them as management material. You could say that people who dress like their superiors have found a smart way to get noticed and accepted.
"As many graduates will be starting their first jobs this week, the age-old age of 'Dress for the job you want, not the job you have' is still as useful as ever." Concluded Pine.
Debenhams' new season collection is now available in all stores nationwide and online at Debenhams.com.