Revamping your wardrobe for summer 2021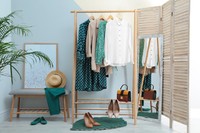 Summer 2021 is just a few months away. And unlike last summer, when most of us spent more time than ever before inside our homes, it's looking like vacations and fun in the sun may be making a comeback.
If you're ready to venture out this summer or just want to mix up your work-from-home look, we can help. Keep reading to learn a few tips to help you revamp your summer wardrobe.
Layer Up a Lightweight Tank
Sheer or flowing tank tops are perfect for keeping cool in the summer heat. But don't just reach for your normal, boring bra for underneath. Instead, layer a sexy, strappy garter underneath. Besides giving your outfit a steamy upgrade, this will also help add some style to your tank and take it up a notch.
Strappy Everything
Another trend that pairs perfectly with the last one is strappy tops that can be twisted and tied. Also called "midriff flossing," tops, bralettes and garters featuring straps that crisscross your midsection are having a big moment this season. This trend offers a wide range of options. Wear a strappy top on its own, or add your favorite strappy garter or bralette under a mesh top or cropped jacket.
Free Up Your Hands with a Chic Cross Body
Crossbody handbags are the ultimate summer staple. Besides adding a pop of color or a chic finish to your favorite outfit, they're also great for downsizing your big handbag. When warmer weather has you getting out more and enjoying your favorite summertime activities, you'll love being able to keep your things with you while also leaving your hands free. Opt for a satchel in a candy-colored hue for an extra trendy boost to your look.
Get Trendy with Some Cottage Core
Named one of the biggest trends for summer 2021, the Cottagecore look that celebrates an idealized rural life is making its way into the fashion world. This cozy, nostalgic look will remind you of pioneers crossing the prairie, with tiered long skirts, billowing sleeves, tiny floral prints and plenty of embroideries. This trend is perfect for summer, thanks to its reliance on lightweight, flowing dresses and skirts. If you're not ready to dive in headfirst, opt for a cute, billowing top or a flowy skirt with a plain tee rather than a full-blown gown.
Bralettes as Tops
Just like layering a sexy garter underneath a flowy or mesh tank top, bralettes are another bedroom-ready trend making their way into your summer fashion must-haves. Lacy, strappy, or sporty bralettes, layered under cropped jackets or button-down shirts, are a hot-day-ready trendy look that's both stylish and comfortable. Plus, odds are that you already have the staples you'll need to build this look waiting in your dresser or closet.
Floaty Maxi Dresses
If you're looking for the perfect dress for summer 2021, you're not limited to prairie-style looks. Long, flowing maxi dresses in more modern cuts and colors are also making a big comeback this year. This look is perfect for attending a summer wedding or for a date night. But even more formal looks will be popular for everyday wear this summer.
Revamping Your Summer 2021 Wardrobe
From candy-colored crossbody bags to layering lingerie under your tanks and jackets, these trends are sure to be a hit this summer season!